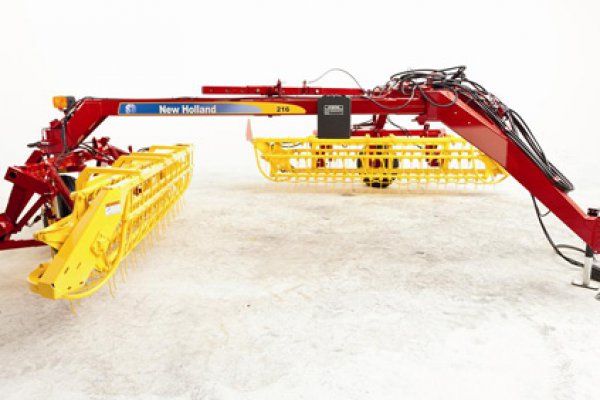 Double tap to zoom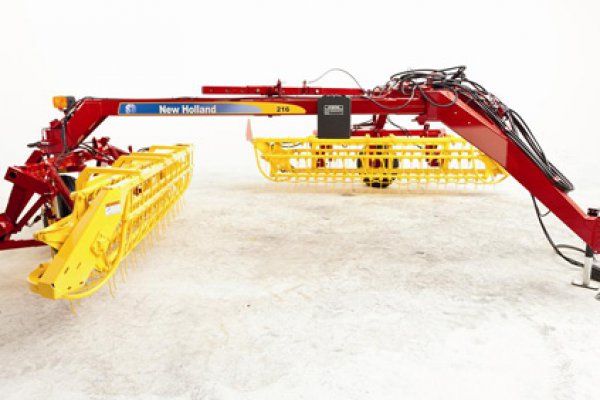 Features
RAKE 27 FEET IN ONE PASS
For the ultimate in hay raking, the Model 216 unitized rake joins two 10 1/2-foot baskets on one heavy-duty frame to cover twice the ground in one pass. It can combine two 16-foot windrows, to cover a 27-foot-wide stretch each trip down the field.
CONVENIENT CONTROLS FROM THE TRACTOR
Operating the 216 is especially easy because you primarily use the tractor controls. A rake control box allows you to select the raking function. Then use the tractor selector valve to activate that function. Hydraulics raise and lower the baskets and control basket width and angle. A flow control valve lets you adjust reel speed.
SOLID FRAME CONSTRUCTION
The solid unitized frame construction maintains a constant windrow width, even through sharp turns. Swing arms are reinforced at the pivot points for added durability.
EASY WAY TO ADJUST WINDROW DENSITY
A four-point suspension system with double top links can be adjusted to change the tilt of the basket assembly. Shortening the length of the basket upper link tilts the tines forward for loose, fast-drying windrows. Increasing the length tilts the tines rearward for tighter windrows.
DESIGNED FOR DURABILITY
A number of features improve durability on Model 216. Stripper bar supports reduce the possibility of tine breakage by maintaining bar and tine alignment. Superior basket suspension permits tines to lift over obstacles for cleaner raking and less tine failure. Stronger lower links and a reinforced frame increase durability.
TOUGH TINES HAVE LONG LIFE
Rubber Dyna-tines provide long life and are mounted individually so they are easy and economical to replace. An additional 120 tines can be added for more sweeping and cleaning action. Rake tine bars are mounted to spider assemblies with two sealed ball bearings at each end for hassle-free servicing.
FAST CHANGE TO TRANSPORT READY
Changing from field to transport position is easy, too. Use the hydraulics to shift the baskets into place; the swing frame folds as you move the tractor forward. Just raise the baskets and go, all from the tractor seat. When you get to the next field, the previous basket angle and width settings are repeated automatically.
Specifications
| | |
| --- | --- |
| 216 Unitized |   |
| Specifications |   |
| Raking width ft. in. (mm) | 10' 6" (3198) each basket - Up to 27' (8223) maximum, both baskets |
| Width overall ft. in. (mm) | 10 (3045) transport |
| Height overall ft. in. (mm) | 5'4" (1626 mm) |
| Length overall ft. in. (mm) | 22' 1" (6730) transport |
| Wheel Tread ft. in. (mm) | Adjustable, depending on working width setting |
| Transport Speed mph (km/h) | 20 (32) |
| Operating Speed mph (km/h) | 2 to 10 (3 to 16) |
| Weight, approx. lbs. (kg) | 3,005 (1363) |
| Main frame in. (mm) | Tubular steel construction |
| Basket | One-piece, welded construction |
| Basket drive | Hydraulic |
| Gearbox (ground drive) | None |
| Drive Housing | None |
| Tine bars | 5, extra-heavy high carbon steel |
| Tines | Rubber-mounted |
| Number of tines | 220 standard, 340 optional |
| Tine Bar Bearings | Double ball bearing |
| Drive | Hydraulic |
| Delivery | Center |
| Tractor requirement hp | 50 hp; 9 gpm hydraulic flow with 2000 psi relief, four remote outlets, double circuit |
| Hitch type | Drawbar |
| Standard safety equipment | Reflective strips front & rear; safety tow chain |