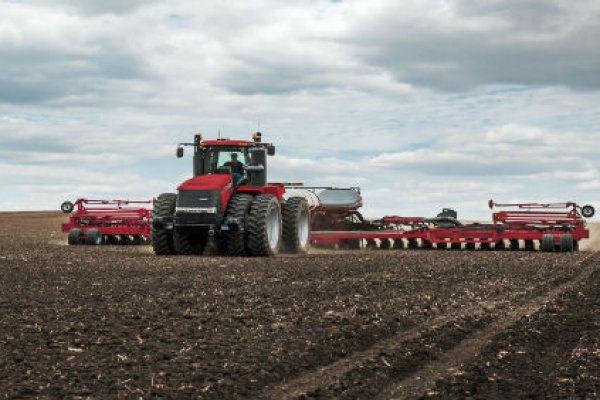 Double tap to zoom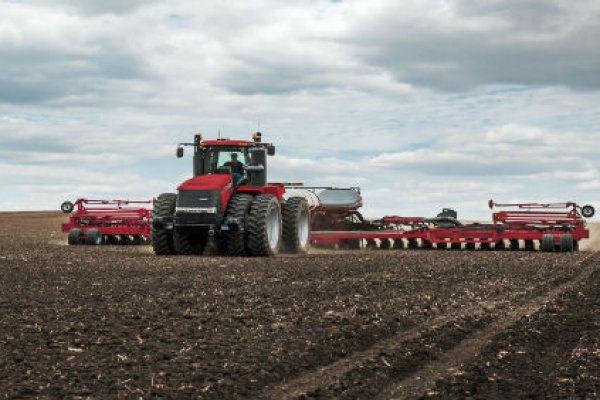 Features
New for 2018: Endless Applications and All-season Productivity
Take control of every season, every application with the new intuitive, easy-to-use Steiger® series tractors with CVXDrive continuously variable transmission. It's the first continuously variable transmission for an articulated 4WD tractor and delivers the highest horsepower available on the market —up to 605 peak horsepower – so you can take on year-round farming applications and specialty applications.
Configurations
Unmatched 4WD Tractor Adaptability
Wheeled
Steiger wheeled models will keep you ready for any kind of row crop work, in any conditions. And with the 4WD force to boost your row crop operations, Steiger tractors are the ideal choice to pull your large planters and strip-till rigs.
Longer wheelbase combined with Case IH exclusive high-flotation tires provides more traction with less compaction, even under load.
Available on all Steiger models.
Track Technology
Legendary 4-track Design
For 20 years, we've led and perfected track technology with our Steiger® Quadtrac® and Rowtrac™ tractors. One major advantage Steiger tractors have over any competition is their independent, 4-track design, which provides outstanding traction and flotation, better handling, less rutting and berming, and full power on the ground in curves and turns — offering flexibility to operate in a variety of conditions, and make the most of short operating windows.
ENGINE
The Most Powerful Tractor in the Industry
Steiger tractors offer up to 682 peak horsepower — the most in the industry. And with 10 percent Power Growth capabilities built into all our engines, they can handle even more in difficult conditions without compromising performance.
Reliable and Durable

Case IH 8.7L and 12.9L FPT engines are engineered and tested in Burr Ridge, IL. Our engines have clocked over 25 million hours on North American farms alone, making them field tested and field proven, providing the reliability you need.

Superior Operating Range

Steiger Quadtrac tractors feature a superior operating range, with rated power at 2100 RPM, peak power at 1900 RPM, and peak torque at 1400 RPM. Case IH tractors can be lugged to a lower engine RPM, producing more torque, than the competition. This means less downshifting or "kicking-to-neutral," especially in tough field conditions.

Unmatched Fuel Efficiency

Case IH has been committed to an SCR-only solution for its unmatched fuel efficiency and power. Plus, it eliminates the need for additional components such as DPF and CEGR. You can enjoy greater productivity since the system allows for 600 hours between oil changes and doesn't require regeneration.

Turbochargers

Two stage turbochagers feature a low pressure, cooling circuit system that provides increased power without compromising fuel efficiency. A small turbocharger delivers low-RPM responsiveness and a second, larger one delivers maximum boost at high RPMs. Each has its own intercooler and radiator for added efficiency. (Steiger 540, 580, 620)
TRANSMISSION
For The First Time, A Choice Of Transmissions
Now you can choose between the new CVXDrive™ continuously variable transmission and the time-tested PowerDrive powershift transmission.
CVXDrive Continuously Variable Transmission
Set It and Forget It
Dial in the exact speed you need for the job — from 3 feet per minute up to 25 mph. No need to use the clutch or shift; the Steiger CVXDrive automatically selects the most efficient transmission range to work at the speed you need. Features familiar controls, including the integrated split-throttle on the MultiControl Armrest found in Magnum®, Optum®, Puma® and Maxxum® continuously variable transmission tractors.

Continuous Hydraulic Flow
The Steiger CVXDrive delivers unprecedented efficiency with greater precision and control over inputs, whether planting, seeding, fertilizing or spraying. It's flexibility that aids year-round use for any number of jobs. Up to 605 peak horsepower on Steiger 540 hp models provides the power and torque needed for the toughest conditions you experience.


Add Productivity to Row Crop Applications
The Steiger tractor won't take up space in the shed. From planting to harvest, CVXDrive puts you in greater control of every application, all year long. Including harvesting when pulling grain carts and hauling trailers and slurry tankers.
Expand Your Business With Specialty Applications
Your productivity can go beyond the typical agricultural use. Steiger CVXDrive tractors deliver the constant hydraulics and low-speed torque for multiple operation including:
Laying tile for subsurface drainage
Land leveling and earth moving
Land Reclamation
PowerDrive Powershift Transmission
Record-Setting Power and Performance
The Steiger 620 wheeled tractor with a PowerDrive powershift transmission led the competition and set records for drawbar fuel efficiency, drawbar horsepower and maximum pull at the 2017 Nebraska Tractor Test Laboratory.
Fuel Saving
Uses operator input to provide automatic shifting that matches engine power and ground speed. Also helps save fuel — while planting at a constant 6 mph, you can save up to 24 percent on fuel while still achieving desired plant population.
Proven Ease of Use & Efficiency
The 16-speed PowerDrive powershift offers 20 percent faster shifting speed, with reliably smooth shifting that reduces operator fatigue, especially while roading or transporting equipment between fields. Plus, Case IH engineering tests have proven the enhancements to the PowerDrive can save up to 2 percent horsepower - helping you work more productively.
Made to Last
The PowerDrive transmission also features larger, helical-cut gears and clutch packs that deliver years of service while transmitting up to 682 peak horsepower to the ground for large-scale farming.
Specifications
| | |
| --- | --- |
| Make | Case IH |
| Model | Steiger 420 Wheeled (2018-Present) |
| Engine Performance |   |
| Advertised Engine Power, Rated, hp (kW) | 420 (313) |
| Maximum Engine Power, hp (kW) | 462 (345) |
| Rated Engine Speed, rpm | 2100 |
| Power Boost, hp (kW) | 42 (31) |
| Fuel Tank capacity, gal (L) | 310 (1173) |
| Diesel Exhaust Fluid (DEF) tank capacity, gal (L) | 42 (159) |
| PTO Performance |   |
| PTO Horsepower, Basic / Optional Transmission, hp (kW) | 355 (265) |
| PTO Speeds, rpm | 1000 |
| PTO operational Type (Independent; Live; Continuous) | Independent |
| Basic Engine |   |
| Engine Make | Case IH FPT |
| Engine Model | 12.9 L |
| Number of Cylinders | 6 |
| Displacement, cu in (L) | 787 (12.9) |
| Engine Bore, in (mm) | 5.31 (135) |
| Engine Stroke, in (mm) | 5.91 (150) |
| Block Design, Replaceable Liners | Wet liners |
| Aspiration, Turbocharged or Naturally Aspirated | Wastegate Turbocharged, Aftercooled |
| Fuel System |   |
| Fuel System Description | High Pressure Common Rail |
| Fuel System Control, Electronic or Mechanical | Electronic |
| Fuel Injection to combustion chamber, Direct or Indirect | Direct |
| Emission and Exhaust Treatment |   |
| Emission Level, US EPA Tier | Tier 4B / Final |
| Selective Catalytic Reduction (SCR) w/Diesel Exhaust Fluid (DEF) | SCR w/ DEF |
| Exhaust Gas Recirculation (EGR) | No |
| Cleanup Catalyst (CUC) | CUC standard |
| Diesel Oxidation Catalyst (DOC) | DOC standard |
| Diesel Particulate Filter (DPF) | No |
| Exhaust Pipe, Vertical stack or Horizontal | Vertical stack |
| Cooling System |   |
| Fan Drive Type | Vistronic |
| Electrical System |   |
| System Rating, Volts | 12 V System; 24 V Start |
| Alternator Rating, Amps | 200 |
| Basic Transmission Configuration |   |
| Manufacturer's Description | PowerDrive |
| Transmission Type | Full powershift |
| Number of Forward / Reverse Speeds | 16F / 2R |
| Maximum Speed Forward, mph (kph) | 25 (40) |
| Creeper Range Available | No |
| Shuttle (Forward-Reverse) Available | Yes |
| Optional Transmission 1 |   |
| Manufacturer's Description | CVXDrive |
| Transmission Type | Continuously Variable |
| Number of Forward / Reverse Speeds | Infinite, 4 ranges |
| Optional Transmission 2 |   |
| Manufacturer's Description | No option |
| Transmission Type | No option |
| Number of Forward / Reverse Speeds | No option |
| Wheel or Track Configuration |   |
| Drive Wheels or Tracks; 2WD, 4WD, 2WD / 4WD, 2 Tracks or 4 Tracks | 4WD |
| Steering Configuration: Front Steer, Frame Articulated, or Track-type Steer | Frame Articulated |
| Rear Axle Assembly |   |
| Final Drive Location and Description | Inboard Planetary |
| Axle Output End, Flange or Bar | Bar |
| Axle Bar Diameter, in (mm) | 5.0 (127) |
| Front Axle |   |
| Suspended Front Axle Available | No |
| Brakes |   |
| Service Brake Type | Wet disc |
| Hydraulic System |   |
| Hydraulic System Type | Pressure Flow Compensated |
| Main Hydraulic Pump Type | Single pump std; TwinFlow opt. |
| Implement Pump Flow, gpm (Lpm) | 42 (159) |
| Optional Pump Flow, gpm (Lpm) | 57 (216); 113 (428) |
| Number of Standard Remote Valves | 4 std; up to 8 total |
| 3-Point Hitch Features |   |
| 3-Point Hitch Category | Category 4N Quick Coupler |
| Optional Hitch Category | Category 3 Quick Coupler |
| Draft Sensing or Lift Control | Three Position, Lift, Hold, Lower |
| Draft Link Ends Telescopic | Quick Coupler |
| 3-Point Hitch Lift Capacity |   |
| Standard Lift Capacity 24 Inches behind pin, lb (kg) | 20,000 (9072) |
| Optional Lift Capacity 24 Inches behind pin, lb (kg) | No option |
| Standard Lift Capacity at lift pin, lb (kg) | np |
| Optional Lift Capacity at lift pin, lb (kg) | No option |
| Drawbar |   |
| Drawbar Description | Category 4, Swinging |
| Wheelbase / Trackbase |   |
| Wheelbase, 2WD, in (mm) | No 2WD |
| Wheelbase/Trackbase, MFD/4WD or Track, in (mm) | 148 (3759) |
| Length |   |
| Length, 2WD, incl. Hitch/Drawbar, in (mm) | No 2WD |
| Length, MFD/4WD or track, incl. Hitch/Drawbar, in (mm) | 291 (7393) |
| Vertical Dimensions |   |
| Height to Top of Cab, in (mm) | 151.3 (3843) |
| Height to Top of ROPS raised, in (mm) | No open ROPS |
| Width w/Tires or Tracks |   |
| Overall Width, with standard wheels or tracks, in (mm) | 120 (3048) bar axle ends |
| Weight (w/Tires or Tracks) |   |
| Weight, 2WD w/ROPS, lb (kg) | No 2WD |
| Weight, MFD/4WD w/ROPS, lb (kg) | No open ROPS |
| Weight, 2WD w/Cab, lb (kg) | No 2WD |
| Weight, MFD/4WD or Tracks w/Cab, without ballast, lb (kg) | 39,820 (18062) |
| Weight, Total allowable, w/maximum ballast, lb (kg) | 49,500 (22453) |
| Tire / Track Size |   |
| Front Tire Size, 2WD | No 2WD |
| Front Tire Size orTrack Width, MFD/4WD or Track | 710/70 R42, R1W Duals |
| Rear Tire Size or Track Width | 710/70 R42, R1W Duals |
| Sales Literature |   |
| Literature Number | CIH1707105 |
| Literature Date | 8/1/2017 |
| Secondary Literature Source |   |
| Secondary Literature Number | TA-1501-17 |
| Secondary Literature Date | 6/1/2017 |
| Other Documentation |   |
| Document Number | -- |
| Document Date | -- |
| Status and Entry Dates |   |
| Manufacturing Status, Current or Archive | Current |
| First Entry Date | 9/19/2017 |
| Revision Date | -- |