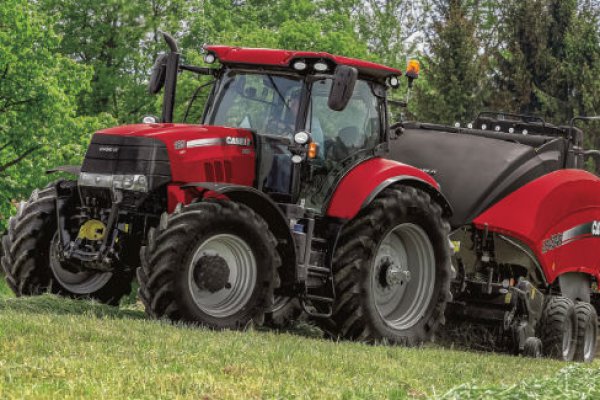 Double tap to zoom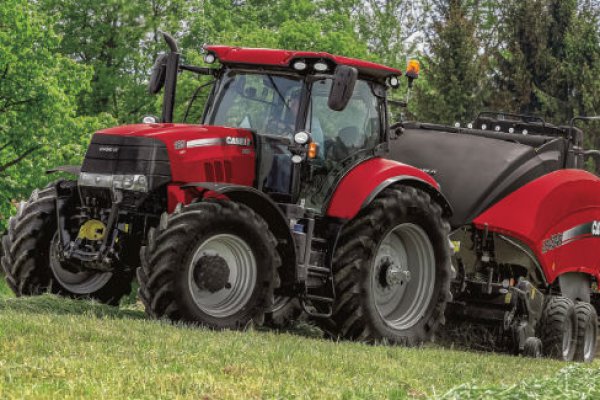 Features
Power, Performance, and Versatility in a Mid-Size Tractor.
Case IH Puma series tractors are efficient, multipurpose workhorses designed to handle a variety of tasks on livestock, dairy and mixed crop operations. When you don't want to compromise power for versatility – choose Puma.
ENGINE
More Productivity, Less Fuel
Case IH SCR Technology
Case IH Selective Catalytic Reduction (SCR) technology improves horsepower, engine responsiveness, fuel economy and durability, all while lowering emissions. It's innovation that meets government standards without sacrificing production.
Engine
Delivers Efficient Power with a Case IH 6.7-liter, 6 cylinder turbocharged, intercooled engine
PowerBoost - boosts your engine by up to 35 HP to meet today's hydraulic demands
Rated engine working speed of 2,200 rpm
4 valves per cylinder for improved fuel economy and power
Extended oil change intervals save you time and maintenance costs
Electronic Common Rail fuel system gives you fast responses in changing field conditions
Selective Catalytic Reduction (SCR)
Meets the tough new Tier 4 B/Final emissions standards
SCR after-treatment converts nitrogen oxides into nitrogen and water vapors
Diesel Exhaust Fluid (DEF), a non-toxic mixture, triggers the change
Engine design reduces particulate matter created by incomplete fuel burning
10% lower operating costs with exhaust as clean as the intake air
More Power, Better Fuel Economy
SCR maximizes horsepower because the system is separate from the engine
The design leads to better fuel economy and improved engine durability, while giving you more flexibility to choose among diesel fuel varieties and grades
Case IH has a full team of professionals to help you tailor your equipment to fit the way you farm and meet new challenges
TRANSMISSION
More Usable Horsepower When and Where You Need It
The Case IH Puma lineup has plenty of power in a mid-size package, plus features like Power Boost, Power Growth, and the CVXDrive transmission option - to deliver more power when and where you need it most, while keeping you productive.
CVXDrive Continuously Variable Transmission
Smooth, Seamless Changes
Select the target speed, and the transmission automatically adjusts to deliver the desired speed and match load conditions. No manual clutching or shifting required.
Active Stop Feature
Provides a powered neutral that prevents tractor movement, even with fully loaded trailers on steep slopes. Great for chores that require frequent starting and stopping.
Fuel Saving
Maintains power to the ground. Shifting of gears is done automatically and never under a load, which helps saves fuel and allows operator to focus on other operational needs.
Easy to Operate
The simplicity of our CVXDrive technology makes it ideal for less experienced operators to maintain peak efficiency in all field conditions and applications.
PowerDrive Powershift Transmission
Options to Fit Your Needs
Standard 18x6 PowerDrive Powershift Transmission. 19x6 PowerDrive Powershift Transmission option available. Operating speeds up to 30 mph.
Made to Last
Robust, proven and reliable transmission providing longer life
Maximize Productivity
Nine gears in the field working range 0 to maximize on productivity
Speed Matching
Allows best match of travel speed to engine RPM
Specifications
| | |
| --- | --- |
| Make | Case IH |
| Model | Puma 185 PS or CVT (2014-2017) |
| Engine Performance |   |
| Advertised Engine Power, Rated, hp (kW) | 180 (132) |
| Maximum Engine Power, hp (kW) | 225 (165) |
| Rated Engine Speed, rpm | 2200 |
| Power Boost, hp (kW) | 45 (33) |
| Fuel Tank capacity, gal (L) | 103 (390) |
| Diesel Exhaust Fluid (DEF) tank capacity, gal (L) | 12.7 (48) |
| PTO Performance |   |
| PTO Horsepower, Basic / Optional Transmission, hp (kW) | 150 (112) |
| PTO Speeds, rpm | 540 / 1000 FPS; 1000 / 1000E CVT |
| PTO operational Type (Independent; Live; Continuous) | Independent |
| Basic Engine |   |
| Engine Make | Case IH FPT |
| Engine Model | 6.7 L |
| Number of Cylinders | 6 |
| Displacement, cu in (L) | 411 (6.7) |
| Engine Bore, in (mm) | 4.095 (104) |
| Engine Stroke, in (mm) | 5.20 (132) |
| Block Design, Replaceable Liners | Parent bore |
| Aspiration, Turbocharged or Naturally Aspirated | Turbocharged, air-to-air aftercooled |
| Fuel System |   |
| Fuel System Description | High Pressure Common Rail |
| Fuel System Control, Electronic or Mechanical | Electronic |
| Fuel Injection to combustion chamber, Direct or Indirect | Direct |
| Emission and Exhaust Treatment |   |
| Emission Level, US EPA Tier | Tier 4B / Final |
| Selective Catalytic Reduction (SCR) w/Diesel Exhaust Fluid (DEF) | SCR w/ DEF |
| Exhaust Gas Recirculation (EGR) | No |
| Cleanup Catalyst (CUC) | CUC standard |
| Diesel Oxidation Catalyst (DOC) | DOC standard |
| Diesel Particulate Filter (DPF) | No |
| Exhaust Pipe, Vertical stack or Horizontal | Vertical stack |
| Cooling System |   |
| Fan Drive Type | BorgWarner Visctronic std; Reversible opt. |
| Electrical System |   |
| System Rating, Volts | 12 |
| Alternator Rating, Amps | 150 std / 200 opt |
| Basic Transmission Configuration |   |
| Manufacturer's Description | 18 x 6 Full Powershift |
| Transmission Type | Full powershift |
| Number of Forward / Reverse Speeds | 18F / 6R |
| Maximum Speed Forward, mph (kph) | 25 (40) |
| Creeper Range Available | Optional 29F x 12R |
| Shuttle (Forward-Reverse) Available | Yes |
| Optional Transmission 1 |   |
| Manufacturer's Description | 40 or 50 kph ECO CVT |
| Transmission Type | Continuously Variable (CVT) |
| Number of Forward / Reverse Speeds | Infinite, 4 ranges |
| Optional Transmission 2 |   |
| Manufacturer's Description | 19 x 6 Hi-Speed Gear, 30 mph (50kph) |
| Transmission Type | Full powershift |
| Number of Forward / Reverse Speeds | 19F / 6R |
| Wheel or Track Configuration |   |
| Drive Wheels or Tracks; 2WD, 4WD, 2WD / 4WD, 2 Tracks or 4 Tracks | 4WD |
| Steering Configuration: Front Steer, Frame Articulated, or Track-type Steer | Front Steer |
| Rear Axle Assembly |   |
| Final Drive Location and Description | Planetary / Inboard |
| Axle Output End, Flange or Bar | Bar |
| Axle Bar Diameter, in (mm) | 4.13 (105) |
| Front Axle |   |
| Suspended Front Axle Available | Optional |
| Brakes |   |
| Service Brake Type | Wet disc |
| Hydraulic System |   |
| Hydraulic System Type | Closed Center, Pressure Flow Compensated (PFC) |
| Main Hydraulic Pump Type | Variable Displacement |
| Implement Pump Flow, gpm (Lpm) | 31.7 (120) FPS; 39.6 (150) CVT |
| Optional Pump Flow, gpm (Lpm) | 39.6 (150) FPS; 44.9 (170) CVT |
| Number of Standard Remote Valves | 3 std; 4th & 5th opt. |
| 3-Point Hitch Features |   |
| 3-Point Hitch Category | Category 2 / 3 |
| Optional Hitch Category | No option |
| Draft Sensing or Lift Control | Electronic Draft Control (EDC) |
| Draft Link Ends Telescopic | Yes |
| 3-Point Hitch Lift Capacity |   |
| Standard Lift Capacity 24 Inches behind pin, lb (kg) | 9,450 (4286) |
| Optional Lift Capacity 24 Inches behind pin, lb (kg) | 15,000 (6804) w/110 mm cyl. |
| Standard Lift Capacity at lift pin, lb (kg) | np |
| Optional Lift Capacity at lift pin, lb (kg) | np |
| Drawbar |   |
| Drawbar Description | Swinging |
| Wheelbase / Trackbase |   |
| Wheelbase, 2WD, in (mm) | No 2WD |
| Wheelbase/Trackbase, MFD/4WD or Track, in (mm) | 113.6 (2885) |
| Length |   |
| Length, 2WD, incl. Hitch/Drawbar, in (mm) | No 2WD |
| Length, MFD/4WD or track, incl. Hitch/Drawbar, in (mm) | np |
| Vertical Dimensions |   |
| Height to Top of Cab, in (mm) | np |
| Height to Top of ROPS raised, in (mm) | No open ROPS |
| Width w/Tires or Tracks |   |
| Overall Width, with standard wheels or tracks, in (mm) | 112 (2845) bar axle ends |
| Weight (w/Tires or Tracks) |   |
| Weight, 2WD w/ROPS, lb (kg) | No 2WD |
| Weight, MFD/4WD w/ROPS, lb (kg) | No open ROPS |
| Weight, 2WD w/Cab, lb (kg) | No 2WD |
| Weight, MFD/4WD or Tracks w/Cab, without ballast, lb (kg) | 15,900 (7212) FPS; 16,800 (7620) CVT |
| Weight, Total allowable, w/maximum ballast, lb (kg) | 28,660 (13000) |
| Tire / Track Size |   |
| Front Tire Size, 2WD | No 2WD |
| Front Tire Size orTrack Width, MFD/4WD or Track | 420/85 (16.9) R30 |
| Rear Tire Size or Track Width | 520/85 (20.8) R42 |
| Sales Literature |   |
| Literature Number | CIH03131401 |
| Literature Date | 3/1/2014 |
| Secondary Literature Source |   |
| Secondary Literature Number | -- |
| Secondary Literature Date | -- |
| Other Documentation |   |
| Document Number | Website features |
| Document Date | 3/1/2014 |
| Status and Entry Dates |   |
| Manufacturing Status, Current or Archive | Archive 2017 |
| First Entry Date | 3/27/2014 |
| Revision Date | 4/23/2014; 12/27/2014; Archived 9/25/2017 |