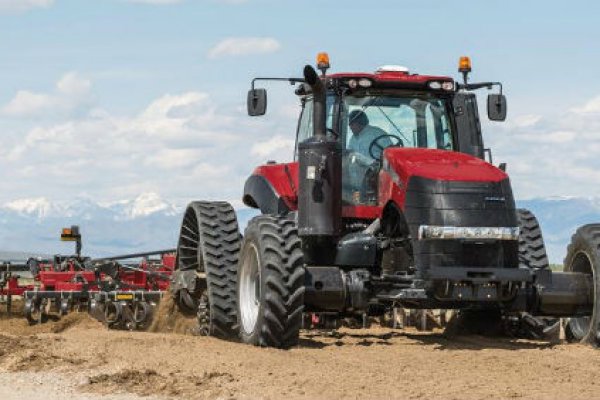 Double tap to zoom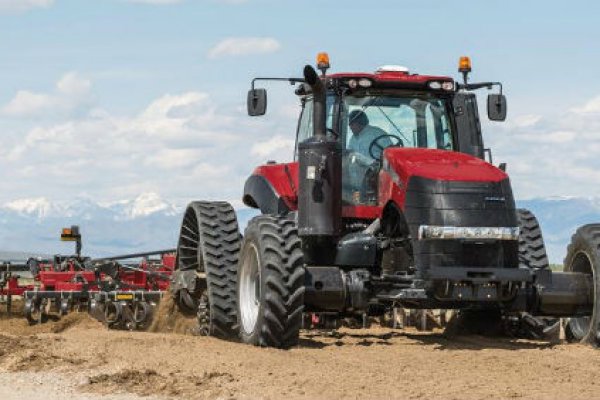 Features
Efficient power. Increased productivity. Operator comfort.
The high horsepower, 4WD Magnum series delivers what you need most when field conditions are tough.
Maximum Versatility for the Way You Farm
Rowtrac
A fixed-frame row crop machine that turns like a traditional tractor, yet floats like a Quadtrac.
With 7 different row crop settings, the Magnum Rowtrac can be customized to fit between nearly any row spacing to reduce the compaction without damaging crops.
Available on Magnum 310, 340, and 380.
ENGINE
Field Leading Power and Performance
Case IH Magnum tractor 6.7 and 8.7L engines combine class-leading horsepower with proven emissions technology. What does that mean to you? Optimum power and fuel efficiency from an engine that has a legacy of performing in the toughest agricultural applications.
Reliable and Durable
FPT engines are developed and tested in Burr Ridge, Illinois. Our 6.7 and 8.7 L engines have clocked over 25 million hours on North American farms, field-tested and proven in the conditions you face.
Power Growth for Tough Operations
FPT engines are designed to develop up to 14% power growth, providing the power you need when you need it. They also feature a power boost of up to 35 additional horsepower to maintain speed and productivity with PTO applications.
Powerful and Proven
Case IH has been committed to an SCR-only solution for its unmatched overall fluid efficiency and power. Plus, it eliminates the need for additional components such as DPF and CEGR. You can enjoy greater productivity since the system allows for 600 hours between oil changes and doesn't require regeneration.
Fuel Efficiency Without Compromise
With industry-exclusive options, Magnum engines can offer the next level of innovation like engine braking, which reduces drivetrain wear and improves machine control. Transmission
TRANSMISSION

Power that Puts You in Total Control
Today's powerful lineup of Magnum tractors is engineered to make your job easier and more productive, allowing you to keep up with the demands of farming. And, with two industry-leading transmissions to choose from, you can be assured you have the most efficient power for your operation.
CVXDrive Transmission
Total Power Control
Industry leading CVXDrive Transmission delivers uninterrupted power to the ground, incorporating three ranges to be more efficient and deliver more power for tough jobs. Plus, with ActiveStop (or power neutral), the engine holds the tractor in place, letting you more easily start and stop on inclines without using the clutch or brake.
Simple Operation
Go from zero to 25 mph standard (30 mph opt.) simply by moving a lever. CVXDrive automatically selects the best transmission range for the desired speed or load, eliminating the need for clutching and shifting.
Maximum Fuel Efficiency
In combination with the Diesel Saver APM system, CVXDrive automatically chooses the most fuel efficient combination of engine speed and drivetrain selection to save fuel and reduce costs.
PowerDrive Powershift Transmission
Ultra-Smooth Shifting & Power Transfer
Proven 19-speed full powershift transmission delivers ultra-smooth shifting and power transfer for field or road, allowing for maximum productivity.
Fuel Saving
Diesel SaverTM Auto Productivity Management (APM) allows maximum fuel efficiency by managing the engine RPM and transmission speed. You set the speed, rpm and shift frequency, and your transmission does the rest, so the job gets done faster and at the lowest possible cost.
Durable & Reliable
Powershift transmissions are sized for high horsepower demands, to achieve maximum reliability and durability - even in heavy draft load applications.
Specifications
| | |
| --- | --- |
| Make | Case IH |
| Model | Magnum 380 Rowtrac (2018-Present) |
| Engine Performance |   |
| Advertised Engine Power, Rated, hp (kW) | 380 (283) |
| Maximum Engine Power, hp (kW) | 435 (324) |
| Rated Engine Speed, rpm | 2000 |
| Power Boost, hp (kW) | 55 (41) |
| Fuel Tank capacity, gal (L) | 178 (674) |
| Diesel Exhaust Fluid (DEF) tank capacity, gal (L) | 26 (99) |
| PTO Performance |   |
| PTO Horsepower, Basic / Optional Transmission, hp (kW) | 315 (235) |
| PTO Speeds, rpm | 1000 std; 540 / 1000 opt |
| PTO operational Type (Independent; Live; Continuous) | Independent |
| Basic Engine |   |
| Engine Make | Case IH FPT |
| Engine Model | 8.7 L |
| Number of Cylinders | 6 |
| Displacement, cu in (L) | 531 (8.7) |
| Engine Bore, in (mm) | 4.61 (117) |
| Engine Stroke, in (mm) | 5.31 (135) |
| Block Design, Replaceable Liners | Wet liners |
| Aspiration, Turbocharged or Naturally Aspirated | eVGT Turbocharged, Aftercooled |
| Fuel System |   |
| Fuel System Description | High Pressure Common Rail |
| Fuel System Control, Electronic or Mechanical | Electronic |
| Fuel Injection to combustion chamber, Direct or Indirect | Direct |
| Emission and Exhaust Treatment |   |
| Emission Level, US EPA Tier | Tier 4B / Final |
| Selective Catalytic Reduction (SCR) w/Diesel Exhaust Fluid (DEF) | SCR w/ DEF |
| Exhaust Gas Recirculation (EGR) | No |
| Cleanup Catalyst (CUC) | CUC standard |
| Diesel Oxidation Catalyst (DOC) | DOC standard |
| Diesel Particulate Filter (DPF) | No |
| Exhaust Pipe, Vertical stack or Horizontal | Vertical stack |
| Cooling System |   |
| Fan Drive Type | BorgWarner Visctronic |
| Electrical System |   |
| System Rating, Volts | 12 |
| Alternator Rating, Amps | 200 |
| Basic Transmission Configuration |   |
| Manufacturer's Description | CVXDrive |
| Transmission Type | Continuously variable |
| Number of Forward / Reverse Speeds | Infinite, 4F / 2R ranges |
| Maximum Speed Forward, mph (kph) | 25 (40) |
| Creeper Range Available | Standard with CVXDrive |
| Shuttle (Forward-Reverse) Available | Yes |
| Optional Transmission 1 |   |
| Manufacturer's Description | No option |
| Transmission Type | No option |
| Number of Forward / Reverse Speeds | No option |
| Optional Transmission 2 |   |
| Manufacturer's Description | No option |
| Transmission Type | No option |
| Number of Forward / Reverse Speeds | No option |
| Wheel or Track Configuration |   |
| Drive Wheels or Tracks; 2WD, 4WD, 2WD / 4WD, 2 Tracks or 4 Tracks | 2 Rear tracks + 2 MFD front tires |
| Steering Configuration: Front Steer, Frame Articulated, or Track-type Steer | Front Steer |
| Rear Axle Assembly |   |
| Final Drive Location and Description | Inboard / Planetary |
| Axle Output End, Flange or Bar | Flange w/ drive sprocket |
| Axle Bar Diameter, in (mm) | No bar axle |
| Front Axle |   |
| Suspended Front Axle Available | Optional |
| Brakes |   |
| Service Brake Type | Wet disc |
| Hydraulic System |   |
| Hydraulic System Type | Pressure-flow compensating (PFC) |
| Main Hydraulic Pump Type | Variable Displacement |
| Implement Pump Flow, gpm (Lpm) | 44 (166) |
| Optional Pump Flow, gpm (Lpm) | 59 (224) or 75 (282) |
| Number of Standard Remote Valves | 4 std.; 5th or 6th opt. |
| 3-Point Hitch Features |   |
| 3-Point Hitch Category | Category 3 / 4N |
| Optional Hitch Category | No 3N setting w/quick coupler |
| Draft Sensing or Lift Control | Electronic position and/or draft control |
| Draft Link Ends Telescopic | Adjustable quick coupler |
| 3-Point Hitch Lift Capacity |   |
| Standard Lift Capacity 24 Inches behind pin, lb (kg) | 19,900 (9026), quick coupler |
| Optional Lift Capacity 24 Inches behind pin, lb (kg) | No 3N setting w/quick coupler |
| Standard Lift Capacity at lift pin, lb (kg) | np |
| Optional Lift Capacity at lift pin, lb (kg) | No option |
| Drawbar |   |
| Drawbar Description | Category 4, adjustable |
| Wheelbase / Trackbase |   |
| Wheelbase, 2WD, in (mm) | No 2WD |
| Wheelbase/Trackbase, MFD/4WD or Track, in (mm) | 124 (3150) |
| Length |   |
| Length, 2WD, incl. Hitch/Drawbar, in (mm) | No 2WD |
| Length, MFD/4WD or track, incl. Hitch/Drawbar, in (mm) | 249 (6332) |
| Vertical Dimensions |   |
| Height to Top of Cab, in (mm) | 136 (3450) |
| Height to Top of ROPS raised, in (mm) | No open ROPS |
| Width w/Tires or Tracks |   |
| Overall Width, with standard wheels or tracks, in (mm) | 93 (2362) min.; 182 (4623) max. |
| Weight (w/Tires or Tracks) |   |
| Weight, 2WD w/ROPS, lb (kg) | No 2WD |
| Weight, MFD/4WD w/ROPS, lb (kg) | No open ROPS |
| Weight, 2WD w/Cab, lb (kg) | No 2WD |
| Weight, MFD/4WD or Tracks w/Cab, without ballast, lb (kg) | 41,848 (18982) estimated average |
| Weight, Total allowable, w/maximum ballast, lb (kg) | np |
| Tire / Track Size |   |
| Front Tire Size, 2WD | No 2WD |
| Front Tire Size orTrack Width, MFD/4WD or Track | IF420/85 R38 R1W |
| Rear Tire Size or Track Width | 16, 18, 21, 24, 30 (406, 457, 553, 610, 762) Track (MY2019) |
| Sales Literature |   |
| Literature Number | CIH08051401 |
| Literature Date | 8/1/2014 |
| Secondary Literature Source |   |
| Secondary Literature Number | Manual 47754918 |
| Secondary Literature Date | 9/1/2014 |
| Other Documentation |   |
| Document Number | TA-1517-18 |
| Document Date | 6/1/2018 |
| Status and Entry Dates |   |
| Manufacturing Status, Current or Archive | Current |
| First Entry Date | 9/21/2017 |
| Revision Date | 8/9/2018 |