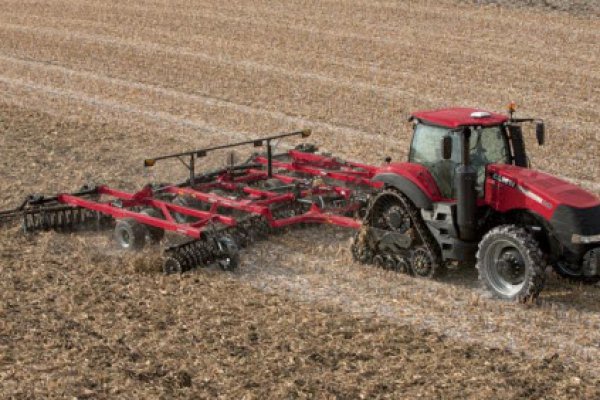 Double tap to zoom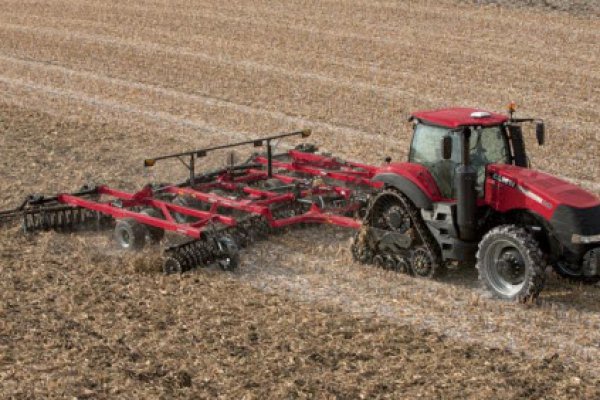 Features
True-Tandem 335VT
Whether slicing through tough residue or uprooting root balls, the True-Tandem 335VT vertical tillage tool helps you level the soil to create the optimal seedbed for the next growing season. Two Earth Metal® 20-inch VT Wave Blade options — including a new longer-edge–life, 20-inch, 5 mm thick blade option — are right-sized to penetrate hard soils and break through surface compaction and properly mix residue and nutrients.

Agronomic Design™: Cut, Size And Bury More Residue
Slice through tough residue, uproot root balls and level out the soil to create the best possible seedbed for your next growing season. Our vertical tillage lineup is built on proven Agronomic Design™ principles with industry-exclusive blades, so you can more effectively manage soil and residue. This patented system moves material up, over and out to stratify soil particles and increase aeration for improved soil tilth and seedbed conditioning.
Crop Residue Management
Control residue size and distribution to promote faster breakdown and nutrient cycling
Ultimate vertical tillage lineup to manage residue from a multitude of crops
The TigerPaw™ Crumbler® puts the final touches on the seedbed
Precise depth adjustment allows for greater control over soil residue cover at planting to fit a wide range of soil types, topographies and management objectives
Soil Tilth
Break through crusty, sealed-over soils to achieve the proper balance of minerals, air and water
The concave, wavy blade design sends soil and residue up, over and out
Promote a better seedbed finish without the excessive compaction typical of heavier disks
Helps reduce residue hair pinning, resulting in better seed to soil contact and stand establishment
Seedbed Conditioning
Put the finishing touches on fields by sizing clods and increasing the soil's contact with residue for maximum decomposition
Provide a uniform seedbed depth and temperature, contributing to early, even plant emergence
Durable True-Tandem Frame
Improve balance and stability in the field with the True-Tandem frame design. The combination of mirror-matched gangs and a rugged, low-maintenance pull-through frame eliminate drift and accommodate higher ground speeds compared with the traditional double-offset frame. LED lights and a high-quality powder coat paint finish keep you in the field longer and your equipment looking good for years to come.
Mainframe & Wings
Provides exceptional center of gravity and balance
Designed with gusset plates to maximize strength and stress distribution
Delivers more uniform weight per blade
Increased length over competitive equipment improves overall balance and fore and aft leveling
Overlapping weld design and welded cylinders improved durability while reducing maintenance and the chance of leaking
Greaseless Bearings
Featured on wing pivots, rockshafts and the TigerPaw Crumbler
Reduces routine maintenance, keeping you in the field longer
Durable Design Attributes
LED lights are brighter and longer lasting than incandescent lamps
The Class 3 powder coat paint finish retains color longer and is more scratch resistant
Level the Growing Field
Work the soil you want to work. The True-Tandem vertical tillage lineup engages soil to your intended depth without disrupting soil density below the operating depth. It's a system that's proven to provide more consistency, even as soil types change across the field. And thanks to an intuitive depth adjustment system, you can easily adjust depth control and leveling to meet the needs of your conditions and fields.
Single-Point Hydraulic Depth Control
Easily adjusts operating depth with a single hand crank conveniently located at the front of the machine
Helps adjust to adverse conditions, such as wet, muddy soil
The system holds a constant blade operating depth to provide a uniform seedbed depth temperature, contributing to early, even plant emergence
Fore & Aft Leveling
View the gauge from the cab to easily return to your pre-adjusted position
Specifications
| | |
| --- | --- |
| Model | True Tandem 335VT, Single Fold 3-Section |
| CONFIGURATION |   |
| Fore-aft configuratiion | Blade-Blade-Rolling reel |
| Primary blade type, disk, coulter or turbo | Wave blade |
| Manufacturer's description of blades | Earth Metal VT Wave Blade |
| Dimensions and Weights |   |
| Working width, minimum, ft-in (m) | 22' 2" (6.76) |
| Working width, maximum, ft-in (m) | 34' 8" (10.57) |
| Transport width, minimum, ft-in (m) | 14' 6" (4.42) |
| Transport width, maximum, ft-in (m) | 18' 0" (5.49) |
| Transport height, minimum, ft-in (m) | 10' 5" (3.18) |
| Transport height, maximum, ft-in (m) | 13' 7" (4.14) |
| Weight, minimum, lb (kg) | 15,377 (6975) |
| Weight, maximum, lb (kg) | 21,588 (9792) |
| Sizes available, number of widths | 5 |
| Blades |   |
| Blade diameter, in (mm) | 20 (508) |
| Blade spacing, in (mm) | 7.5 (191) |
| Blade edge profile | Wave pattern, can be sharpened |
| Blade concavity | Slight concavity |
| Blade Mounting and Angles |   |
| Blade Mounting, on Gangs or Standards | Gangs |
| Front angle of gang or blades, degrees | 18 |
| Rear angle of gang or blades, degrees | 18 |
| Rolling Basket, Reel or Chopper |   |
| Description, basket, reel or chopper | Double Edge Rolling Reel |
| Rolling Diameter, in (mm) | np |
| Bars or blades on circumference | Formed double edge on each bar |
| Harrow |   |
| Harrow tooth, spike or coil tine | Coil tine optional, for rice areas only |
| Harrow gangs | 3-bar optional, for rice areas only |
| Tires |   |
| Transport tire, largest size | 12.5x15 FI up to 380/60 R16.5 |
| Wing tire, largest size | 11Lx15, 8 ply or 380/60 R16.5 |
| Tractor Power Recommendations |   |
| Power per width of cut, hp/ft (kW/m) | 7 to 11 (17 to 27) |
| Sales Literature |   |
| Literature Number | CIH08091401 |
| Literature Date | 8/1/2014 |
| Secondary Source |   |
| Secondary Source Number | SP-4041-14 |
| Secondary Source Date | 6/1/2014 |
| Status and Entry Dates |   |
| Manufacturing status | Current |
| First Entry Date | 9/23/2014 |
| Revision Date | -- |
-
| | |
| --- | --- |
| Model | True Tandem 335VT, Double Fold 5-Section |
| CONFIGURATION |   |
| Fore-aft configuratiion | Blade-Blade-Rolling reel |
| Primary blade type, disk, coulter or turbo | Wave blade |
| Manufacturer's description of blades | Earth Metal VT Wave Blade |
| Dimensions and Weights |   |
| Working width, minimum, ft-in (m) | 42' 5" (12.93) |
| Working width, maximum, ft-in (m) | 47' 2" (14.38) |
| Transport width, minimum, ft-in (m) | 18' 6" (5.64) |
| Transport width, maximum, ft-in (m) | 18' 6" (5.64) |
| Transport height, minimum, ft-in (m) | 13' 4" (4.06) |
| Transport height, maximum, ft-in (m) | 13' 4" (4.06) |
| Weight, minimum, lb (kg) | 28,000 (12700) |
| Weight, maximum, lb (kg) | 32,816 (14885) |
| Sizes available, number of widths | 2 |
| Blades |   |
| Blade diameter, in (mm) | 20 (508) |
| Blade spacing, in (mm) | 7.5 (191) |
| Blade edge profile | Wave pattern, can be sharpened |
| Blade concavity | Slight concavity |
| Blade Mounting and Angles |   |
| Blade Mounting, on Gangs or Standards | Gangs |
| Front angle of gang or blades, degrees | 18 |
| Rear angle of gang or blades, degrees | 18 |
| Rolling Basket, Reel or Chopper |   |
| Description, basket, reel or chopper | Rolling Reel |
| Rolling Diameter, in (mm) | 14 (356) |
| Bars or blades on circumference | Flat or round bars, spiral pattern |
| Harrow |   |
| Harrow tooth, spike or coil tine | Coil tine optional, for rice areas only |
| Harrow gangs | 3-bar optional, for rice areas only |
| Tires |   |
| Transport tire, largest size | 16.5Lx16.1 FI up to 440/55 R18 |
| Wing tire, largest size | 12.5Lx15 FI |
| Tractor Power Recommendations |   |
| Power per width of cut, hp/ft (kW/m) | 7 to 11 (17 to 27) |
| Sales Literature |   |
| Literature Number | CIH4220807 |
| Literature Date | 4/1/2008 |
| Secondary Source |   |
| Secondary Source Number | SP-4038-13; SP-4041-14 |
| Secondary Source Date | May, 2013; June, 2014 |
| Status and Entry Dates |   |
| Manufacturing status | Current |
| First Entry Date | 9/23/2014 |
| Revision Date | -- |