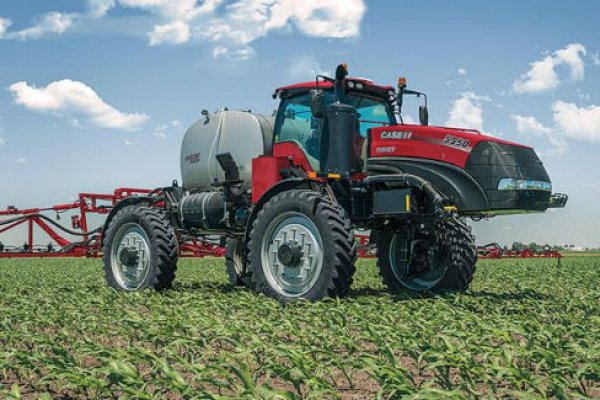 Double tap to zoom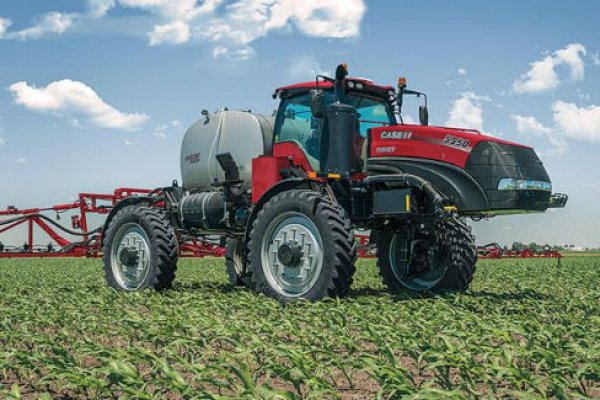 Features
A Combination Applicator by Design, not by Adaptation
Cover More Acres
We engineered the Trident 5550 from the ground up to help you maximize returns on every acre and from every dollar you invest in application equipment. A single chassis that's rugged — yet nimble enough — to handle liquid and dry applications lets you get across more acres at the right time.
Liquid & Dry Application
The Trident 5550 gives you the flexibility in a single piece of equipment to meet the demands of timely fertilizer applications and on-demand treatments for all types of pests. The latest precision application technology helps you get the job done quickly and efficiently across three seasons of use.
Fast Change-Over
How valuable is a combination applicator that takes the better part of the day to convert? With the Trident 5550, you can spend your morning spreading a highly customized nutrient package, and then over the course of not much more than an extended coffee break, be ready to put down a preplant herbicide in the afternoon.
Three Seasons of Use
Welcome to High-efficiency Crop Production
The Trident 5550 liquid/dry combination applicator embodies High-Efficiency Farming: efficient use of time, resources and inputs. And today, maximizing yield potential requires a more specialized approach to feeding and protecting. The Trident 5550 meets those demands across three seasons of use — preplant, postemerge, postharvest.
Season 1
Outfitted with the New Leader NL4500T G4 Edge variable rate dry nutrient applicator, wrap up dry fertilizer applications remaining from the previous fall, and then quickly switch to the liquid system.
Make in-crop pesticide applications; apply nitrogen later in the season to boost protein levels.
Season 2
Preplant, preemerge or postemerge, protect valuable crops from all types of pests — weeds, insects and fungi. Switch back to the dry applicator, if desired, for topdress fertilizer applications.
Make postharvest burndown applications before planting double-crop soybeans. Convert to the NL4500T G4 Edge variable rate dry nutrient applicator and apply dry fertilizer postharvest; switch back to the liquid system.
Season 3
Follow the combines with postharvest fertilizer applications.
Preserve valuable soil moisture with chem-fallow burndown applications ahead of winter wheat seeding or to maintain clean stubble until winter, setting the field up for spring planting and seeding.
Specifications
| | |
| --- | --- |
| Model | Trident 5550 (2018-Present) |
| Solution System |   |
| Solution system tank, gal (L) | 1,400 (5300) |
| Solution tank material | Stainless Steel |
| Solution Fill connection, in (mm) | 3 (76) Left side; Front fill optional |
| Solution pump | Hypro standard or high-flow; hydraulically driven |
| Other Tanks and Containers |   |
| Rinse tank, gal (L) | 200 (757) |
| Hand wash tank, gal (L) | np |
| Foam marker tank, gal (L) | 55 (208) |
| Chemical eductor | Available |
| Engine fuel tank, gal (L) | 150 (568) (two 75 gal tanks) |
| Diesel Exhaust Fluid (DEF) tank, gal (L) | 21 (79) |
| Hydraulic reservoir, gal (L) | np |
| Dry material box option in place of tank | New Leader NL4500T G4 Edge, Quick-Change from tank |
| Boom |   |
| Boom location, front or rear | Rear |
| Boom width option, minimum, ft (m) | 60/90 (18.3/27.4) |
| Boom width option, intermediate, ft (m) | 60/100 (18.3/30.5) |
| Boom width option, maximum, ft (m) | 60/90/120 (18.3/27.4/36.5) |
| Boom sections | 5, 6, or 7; 36 w/AIM Command FLEX option |
| Ground height adjustment, in (cm) | 24 to 84 (61 to 213) |
| Boom breakaway angle, degrees | 30 degrees, full boom |
| Wingtip breakaway, ft-in (m) | 5' 6" (1.7) w/90 ft.; 10' 6" (3.2) w/100 ft.; 9' 0" (2.7) w/120 ft. |
| Nozzle spacing, in (cm) | 20 (50.8) off-center or 20-30 (50.8-76.2) with 30 (76.2) on-center |
| Engine |   |
| Engine position (front or rear) | Front |
| Engine Make | Case IH FPT |
| Engine Model | Cursor 8.7 |
| Rated power, hp (kW) | 390 (291) |
| Peak power, hp (kW) | 415 (309) |
| Emission Tier Level | Tier 4 B/Final |
| Peak Torque, ft-lb (Nm) | 1,257 (1704) |
| Number of cylinders | 6 |
| Displacement, cu in (L) | 531 (8.7) |
| Alternator Amps | np |
| Drive Train |   |
| Drive System description | Hydrostatic |
| Number of speed ranges | Infinitely variable, 4 application modes |
| Maximum travel speed, mph (kph) | 40 (64) |
| Wheel drive (2WD, 4WD) | Full-time 4WD |
| Primary Service Brake | Hydrostatic drive system dynamic braking |
| Secondary Service Brake | All four wheels, pedal activated |
| Parking Brake | Spring-applied hydraulic released wet disc, all wheels |
| Cab |   |
| Cab position | Above and slightly behind front wheels |
| Cab glass area, sq ft (sq m) | 68.5 (6.36) |
| Operator seat description | Cloth std. w/swivel; heated/ventilated leather opt. |
| Instructional seat | Standard |
| Sprayer control | AIM Command FLEX, using Case IH AFS Pro 700 or Case IH Viper 4+ |
| Chassis |   |
| Crop clearance, in (cm) w/ std tires | 53 (135) |
| Wheel track spacing, in (cm) | 120 to 160 (305 to 406), in 0.5 (1.27) increments |
| Wheel track adjustment method | Hydraulic, w/position sensors |
| Wheelbase, in (cm) | 170 (432) |
| Turning radius, ft-in (m) | 26' 1" (7.95) from centerline of rear axle |
| Steering system | 2WS, Hydraulic |
| Suspension description | Pneumatic cylinder at each wheel, 4 modes, load-compensated |
| Suspension travel, total, in (mm) | np |
| Tires |   |
| Standard row-crop tire | IF or VF 320/105R54 duals only |
| Optional row-crop tire 1 | VF380/105R50 single or duals |
| Optional row-crop tire 2 | VF420/95R50 single or duals |
| Flotation tire | VF480/80R50 single or duals |
| Optional flotation tire | IF710/60R46 single or IF710/65R46 dual |
| Overall dimensions, boom folded |   |
| Overall Length, ft-in (m) | 31' 10.5" (9.72) w/tank & 120' boom |
| Overall Height, ft-in (m) | 13' 1.75" (4.01) standard ride height |
| Overall Width, ft-in (m), wheels retracted | 13' 9.75" (4.21) w/710/60R46 tires |
| Overall Width, ft-in (m), wheels extended | 17' 1.75" (5.23) w/710/60R46 tires |
| Dry Weight |   |
| Weight w/ shortest boom, lb (kg) | 26,240 (11902) chassis only, no tank or boom |
| Weight w/ intermediate boom, lb (kg) | 31,100 (14107) w/New Leader dry applicator |
| Weight w/ widest boom, lb (kg) | 35,670 (16180) w/tank & 120' boom |
| Sales Literature |   |
| Literature Number | CIH1707101 |
| Literature Date | 8/1/2017 |
| Other Documentation |   |
| Document Number | AP-10109-17 |
| Document Date | 8/1/2017 |
| Entry Date |   |
| Manufacturing status | Current |
| First Entry Date | 8/10/2017 |
| Revision Date | 12/12/2017 |