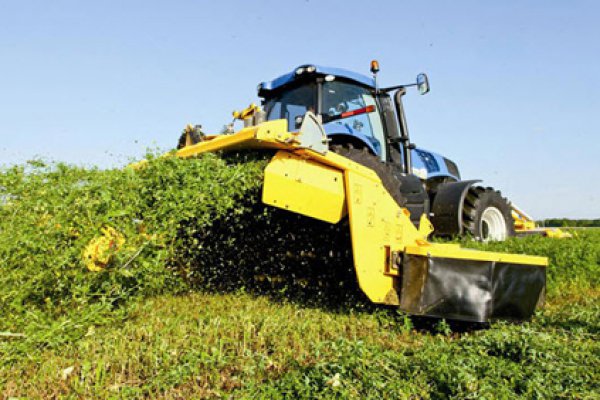 Double tap to zoom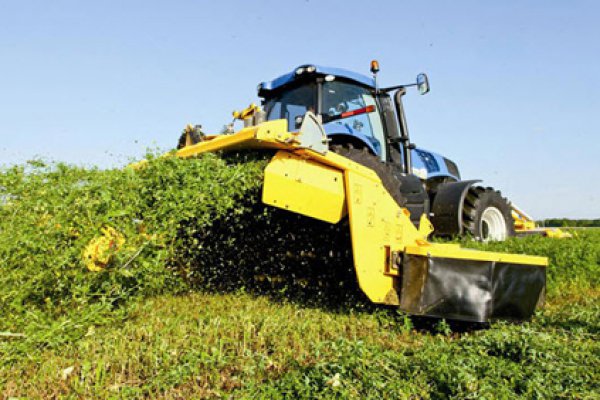 Features
HIGH-CAPACITY MOWING WITH EVERY PASS
At 14 miles per hour, the MegaCutter™ 530 delivers up to 43 acres-per-hour capacity—ideal for today's largest livestock operations and custom harvesters required to get the big jobs done fast while helping to reduce operating costs. With nearly double the cutting width of a traditional 16-foot mower-conditioner or self-propelled windrower, a MegaCutter is ideally suited to match the capacity of large self-propelled forage harvesters and because you're done mowing faster crops can take advantage of peak drying conditions during the day.
RUGGED, RELIABLE DISC CUTTERBAR
The twin MegaCutter 530 disc cutterbars are fully welded and feature an integral box beam support for the flexibility and support needed for challenging conditions. Three levels of protection safeguard the cutterbar against damage in the event of a collision while mowing— 1- Round disc profile produces less wind disturbance and resists stone jamming, 2- Discs are set back for less chance of direct collision, 3- Integrated shear-key system provides disc drive protection.
EVEN CUTTING IN UNEVEN TERRAIN
You can trust the MegaCutter™ 530 rear mounted mower-conditioner to follow the most rolling terrain, provide a clean cut, and remain protected from hidden obstacles. The balanced system suspends each head using twin, heavy-duty flotation springs are attached close to the pivoting point of each cutting head to provide a lower ground pressure and ensure even flotation across the full width. A mechanical, non-stop safety breakaway allows each cutting head to move up and back simultaneously to absorb the impact and clear obstructions, then automatically reset to the working position without stopping.
This ultra-reliable system adjusts to suit your working speeds and field conditions protecting your crop stubble and reduce skid shoe wear so you can mow with confidence, knowing there are no hydraulic accumulators or cylinders to leak down while mowing.
The optional control box is available in both ISOBUS and non-ISOBUS versions adapting the MegaCutter for both current and late model tractors. The control box is small in size and is provided with a fully adjustable mount so it may be ergonomically located. The control box activates all MegaCutter 530 functions.
New Holland, T7 and T8 Series tractors with ISOBUS and an IntelliView™III or IV color touchscreen display control the MegaCutter 530 headland and transport locking functions through the virtual terminal. No additional control box is required.
The optional Front Header Lift kit integrates the MegaCutter 512 front mower-conditioner's headland lift function into the hydraulics of the MegaCutter 530. This allows for seamless control of both the front and rear mowers through the control box or IntelliView display.
Specifications
| | |
| --- | --- |
| MegaCutter™ 530 Rear Mounted Mower Conditioner |   |
| Operational |   |
| Working Width, ft. in. (m) | 29 ft. 6 in. (9.0) |
| Transport Width, ft. in. (m) | 9 ft. 8 in. (3.0) |
| Transport Height, ft. in. (m) | 13 ft. 2 in. (4.0) |
| Weight, lbs (kg) | 7090 lbs. (3216) |
| Number of Discs | 2 x 8 |
| Number of Blades | 2 x 16 |
| Blade Length in. (mm) | - |
| Stubble Height Range with standard shoes, in. (mm) | ¾'' in. to 2 ¼ in. (20 to 55) |
| PTO Speed, (rpm) | 1000 |
| Requirement Tractor Power ,hp (kw) | 210hp/155kw |
| Conditioner Rotor Speed, (rpm) | 900 STD/600 OPT |
| Hydraulic Valves Required | 1 Single Acting 1 Double Acting |
| Windrow Width, ft. in. (m) | 4 ft. 8 in. (1.4) |
| Standard PTO Yoke | 1 3/8" - 21 |
| Optional PTO Yoke | 1 3/4" - 20 |
| PTO Rotation | - |
| Hitch Category | Category 3 |