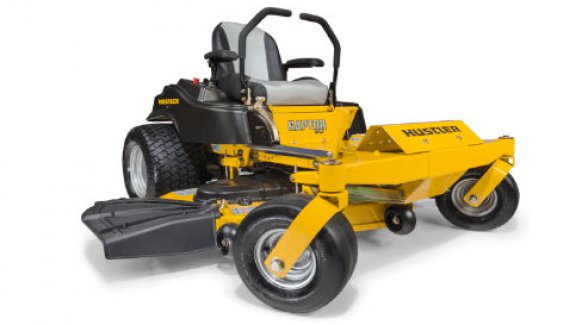 Double tap to zoom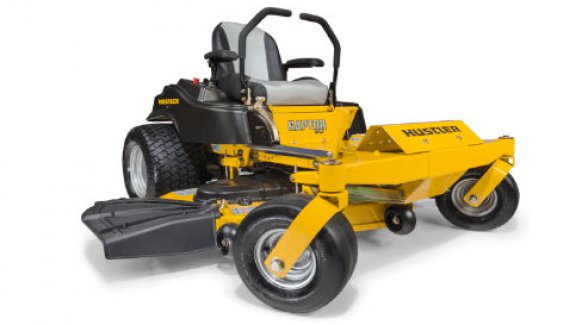 Features
Heavy-Duty Welded Steel Deck
The deeper deck comes in 36", 42", 48", 54" and 60" sizes.
SmartChoke™ Technology
Starting the mower has never been easier. There's no choke - Just turn the key and go.
Heavy-Duty Fabricated Frame
Hustler's heavy-duty fabricated frames are the toughest in its category.
Low Seat Height
Provides exceptional control and handling.
Heavy-Duty Front Caster Forks
3/8" steel fork with 13 x 6.5 front caster tire (on 48" 54" 60" models only).
Patented Automatic Park Brake System
A simple and convenient system that automatically engages the parking brake when you open the steering levers.
Specifications
| | |
| --- | --- |
| Engine |   |
| Zero-Turn Configuration | 60" Kohler 7000 PRO |
| Manufacturer | Kohler 7000 Series PRO w/ SmartChoke™ |
| HP (Per SAE J 1995.) | 26HP |
| Displacement | 747cc |
| Cooling | Air Cooled |
| Air Cleaner | Single Stage |
| Engine Warranty | 3 Year |
| Drive System |   |
| Zero-Turn Configuration | 60" Kohler 7000 PRO |
| Type | Dual Hydrostatic |
| Pumps | n/a |
| Wheel Motors | n/a |
| Hydraulic Lines | n/a |
| Hydraulic Cooling | n/a |
| Reservoir Capacity | n/a |
| Transmission | HydroGear ZT2800 |
| Speed | 7.5 mph |
| Parking Brakes | Patented Automatic |
| Decks |   |
| Zero-Turn Configuration | 60" Kohler 7000 PRO |
| Cutting Width | 60" |
| Cutting Heights | 1.5"-4.5" |
| Deck Lift | Foot Operated |
| Depth | 4.5" |
| Blades | 3 |
| Blade Length | 3 - 20.50" x 2.50" x .20" |
| Blade Tip Speed | 18,400 fpm |
| Spindles | Aluminum w/ 1.0" Shafts and Double Lip Sealed Ball Bearings |
| Deck Belts | n/a |
| Drive | Electric PTO Clutch |
| Construction | 11ga. Fabricated |
| Spindle Mounts | Reinforced 7ga. |
| Impact/Trim Areas | 3/8" x 1" Steel Bar |
| Construction |   |
| Zero-Turn Configuration | 60" Kohler 7000 PRO |
| Frame | 3.25" x 1.5" x .120" Steel |
| Deck Carrier Frame | n/a |
| Engine/Transmission Frame | n/a |
| Engine Plate | n/a |
| Front Axle | Fabricated w/ Sealed Ball Bearings |
| Front Caster Wheels | Commercial Duty Steel Roller Bearings, greasable |
| Front Caster Forks | Fabricated 3/8" Steel |
| Operator Platform | n/a |
| General |   |
| Zero-Turn Configuration | 60" Kohler 7000 PRO |
| Seat | Adjustable Premium Bolstered Seat w/ Armrests. Internal Suspension. |
| Fuel Capacity | 3 gal. |
| Cup Holder | Yes |
| Front Tire | 13 x 6.5 - 6 |
| Drive Tire | 20 x 12 - 10 |
| Productivity |   |
| Zero-Turn Configuration | 60" Kohler 7000 PRO |
| Acres per Hour | 3.64 |
| Dimensions |   |
| Zero-Turn Configuration | 60" Kohler 7000 PRO |
| Weight | 671 lbs. |
| Height | 44" |
| Height w/ ROPS Up | n/a |
| Height w/ ROPS Folded | n/a |
| Length | 73" |
| Width | n/a |
| Width w/ Chute Up | 61" |
| Tire Width | 46" |
| Dimensions w/ Catcher |   |
| Zero-Turn Configuration | 60" Kohler 7000 PRO |
| Catcher Type | 2-bag |
| Powered/Non-powered | Non-powered |
| Catcher Capacity | 5.4 bushel |
| Mower Length w/ Catcher | 91.4" |
| Mower Width w/ Catcher | 69.25" |