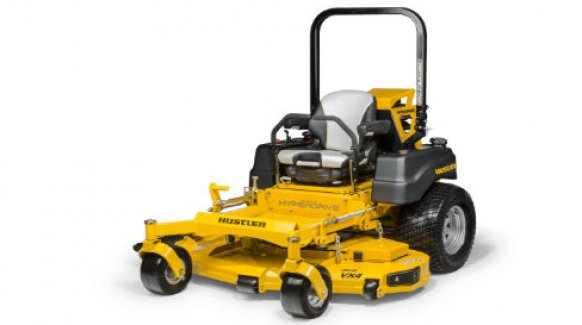 Double tap to zoom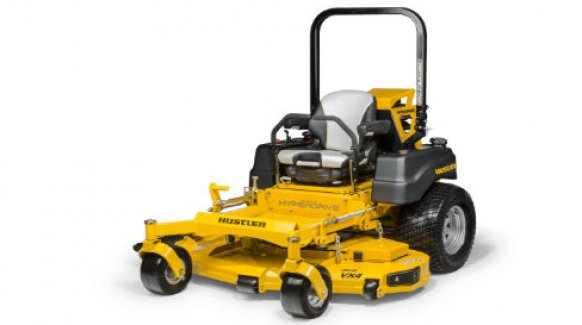 Features
Speed
16 mph. Fastest of the fast.
HyperDrive Hydro System
A Hustler® exclusive, industrial pumps and high torque wheel motors, 3-gallon reservoir, oil cooler and hot oil shuttle.
Premium Seat
Premium suspension seat with operator isolation for all-day comfort.
Drive Tires
Large 26" tires for maximum performance.
VX4 Deck
Clean cut, unmatched performance in all conditions.
Hydro Warranty
3000-Hour pump and motor warranty unmatched in the industry.
Specifications
| | |
| --- | --- |
| Engine |   |
| Zero-Turn Configuration | 72" Vanguard Big Block |
| Manufacturer | Vanguard |
| HP (Per SAE J 1995.) | 36HP |
| Displacement | 933cc |
| Cooling | Air Cooled |
| Air Cleaner | Heavy-Duty Canister |
| Engine Warranty | 5 Year - Vanguard Only |
| Drive System |   |
| Zero-Turn Configuration | 72" Vanguard Big Block |
| Type | Dual Hydrostatic |
| Pumps | Danfoss DDC-20 |
| Wheel Motors | Parker TG280 |
| Hydraulic Lines | Stainless Steel Parker Seal Loc Technology |
| Hydraulic Cooling | Oil Cooler w/ 9" Fan |
| Reservoir Capacity | 3 gal. |
| Transmission | n/a |
| Speed | 16 mph |
| Parking Brakes | Patented Automatic |
| Decks |   |
| Zero-Turn Configuration | 72" Vanguard Big Block |
| Cutting Width | 72" |
| Cutting Heights | 1"-5.5" |
| Deck Lift | Foot Operated |
| Depth | 5.5" |
| Blades | 3 |
| Blade Length | 3 - 24.5" x 3.0" x .25" |
| Blade Tip Speed | 18,530 fpm |
| Spindles | Ductile Cast Iron w/ Steel Shafts and Sealed Ball Bearings |
| Deck Belts | 1 |
| Drive | Electric PTO Clutch |
| Construction | 11ga. + 11ga. + 7ga. Welded Steel |
| Spindle Mounts | Reinforced 11ga. Doubler + 7ga. Tripler, Steel |
| Impact/Trim Areas | 1.5" x .375" Steel Bar Protector |
| Construction |   |
| Zero-Turn Configuration | 72" Vanguard Big Block |
| Frame | 1.5" x 3.0" x .187" Steel |
| Deck Carrier Frame | n/a |
| Engine/Transmission Frame | n/a |
| Engine Plate | n/a |
| Front Axle | n/a |
| Front Caster Wheels | Mounted w/ Sealed Ball Bearings |
| Front Caster Forks | Fabricated 1/2" Steel |
| Operator Platform | n/a |
| General |   |
| Zero-Turn Configuration | 72" Vanguard Big Block |
| Seat | Bolstered Grammer Suspension Seat w/ Isolator |
| Fuel Capacity | 12 gal. |
| Cup Holder | Yes |
| Front Tire | 13 x 6.5 - 6 |
| Drive Tire | 26 x 12 - 12 |
| Productivity |   |
| Zero-Turn Configuration | 72" Vanguard Big Block |
| Acres per Hour | 9.31 |
| Dimensions |   |
| Zero-Turn Configuration | 72" Vanguard Big Block |
| Weight | 1805 lbs. |
| Height | n/a |
| Height w/ ROPS Up | 71.5" |
| Height w/ ROPS Folded | 54" |
| Length | 86.7" |
| Width | n/a |
| Width w/ Chute Up | 78" |
| Tire Width | 60" |
| Dimensions w/ Catcher |   |
| Zero-Turn Configuration | 72" Vanguard Big Block |
| Catcher Type | 3-bag |
| Powered/Non-powered | Powered |
| Catcher Capacity | 12 bushel |
| Mower Length w/ Catcher | 119.2" |
| Mower Width w/ Catcher | 82.9" |
| Catcher Type | BAC-VAC |
| Powered/Non-powered | Powered |
| Catcher Capacity | 10 bushel |
| Mower Length w/ Catcher | 112.7" |
| Mower Width w/ Catcher | 82.9" |