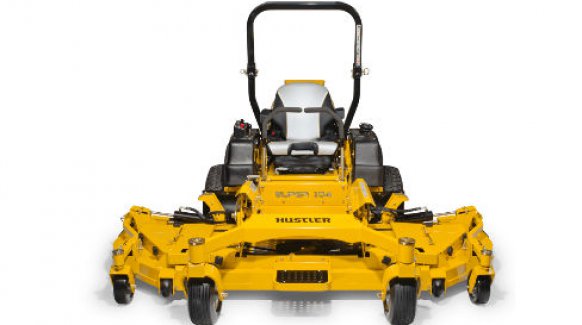 Double tap to zoom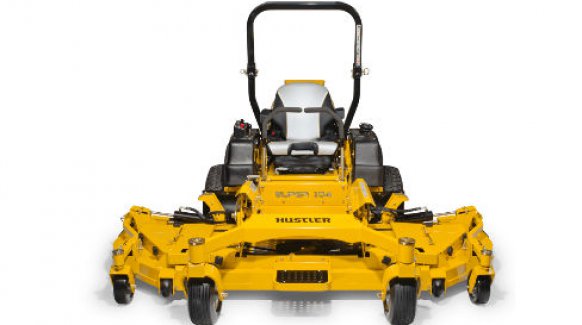 Features
104" Width
The widest width of cut in a zero-turn mower, covering a lot of ground.
HyperDrive Transmissions
Industrial grade, hydro drive system with over-sized slipper piston pumps and hot oil shuttle.
Wings Fold to 80"
80" transport width fits most trailers for easy travel between jobs.
Productivity
45% more productive than a 72" zero-turn mower.
Fuel Savings
Save on fuel due to the 104" width of cut and shorter mowing time.
Zero-Turn Maneuverability
A wide-area cut with the maneuverability of a zero-turn mower gets you in and out of areas no other wide area mower can.
Specifications
Engine
 
Zero-Turn Configuration
104" Rear Discharge Vanguard Big Block
Manufacturer
Vanguard
HP (Per SAE J 1995.)
36HP
Displacement
993cc
Cooling
Air Cooled
Air Cleaner
Heavy-Duty Canister
Engine Warranty
5 Year - Vanguard Only
Drive System
 
Zero-Turn Configuration
104" Rear Discharge Vanguard Big Block
Type
Dual Hydrostatic
Pumps
Danfoss DDC20
Wheel Motors
Parker TG0360
Hydraulic Lines
Stainless Steel Parker Seal Loc Technology
Hydraulic Cooling
Oil Cooler w/ 9" Fan
Reservoir Capacity
3 gal.
Transmission
n/a
Speed
11 mph
Parking Brakes
Patented Automatic
Decks
 
Zero-Turn Configuration
104" Rear Discharge Vanguard Big Block
Cutting Width
104"
Cutting Heights
1" - 5.5"
Deck Lift
Hydraulic Powered
Depth
5.5"
Blades
5
Blade Length
1 - 23.86"" x 2.50"" x .203"" CW
1 - 23.86"" x 2.50"" x .203"" CCW
1 - 20.50"" x 2.50"" x .203"" CCW
2 - 20.50"" x 2.50"" x .203"" CW
Blade Tip Speed
15,800 fpm
Spindles
Ductile Cast Iron w/ Steel Shafts and Sealed Ball Bearings
Deck Belts
1 Per Deck
Drive
Electric PTO Clutch
Construction
11ga. Welded Steel
Spindle Mounts
Reinforced 7ga. Doubler
Impact/Trim Areas
1.5" x .375" Steel Bar Protector
Construction
 
Zero-Turn Configuration
104" Rear Discharge Vanguard Big Block
Frame
1.5" x 3.0" x .187" Steel
Deck Carrier Frame
n/a
Engine/Transmission Frame
n/a
Engine Plate
n/a
Front Axle
n/a
Front Caster Wheels
Mounted w/ Sealed Ball Bearings
Front Caster Forks
Fabricated 1/2" Steel
Operator Platform
n/a
General
 
Zero-Turn Configuration
104" Rear Discharge Vanguard Big Block
Seat
Grammer Suspension Seat, Isolator Platform
Fuel Capacity
12 gal.
Cup Holder
Yes
Front Tire
15 x 6.0 - 6
Drive Tire
26 x 12 - 12
Productivity
 
Zero-Turn Configuration
104" Rear Discharge Vanguard Big Block
Acres per Hour
9.24
Dimensions
 
Zero-Turn Configuration
104" Rear Discharge Vanguard Big Block
Weight
2312 lbs.
Height
n/a
Height w/ ROPS Up
71.5"
Height w/ ROPS Folded
54"
Length
95.5"
Width
106.1"" Wings Down
80.0"" Wings Up at Gauge Wheels
72.5"" Wings Up at Deck Base
Width w/ Chute Up
n/a
Tire Width
60.3"
Dimensions w/ Catcher
 
Zero-Turn Configuration
104" Rear Discharge Vanguard Big Block
Catcher Type
-
Powered/Non-powered
-
Catcher Capacity
-
Mower Length w/ Catcher
-
Mower Width w/ Catcher
-