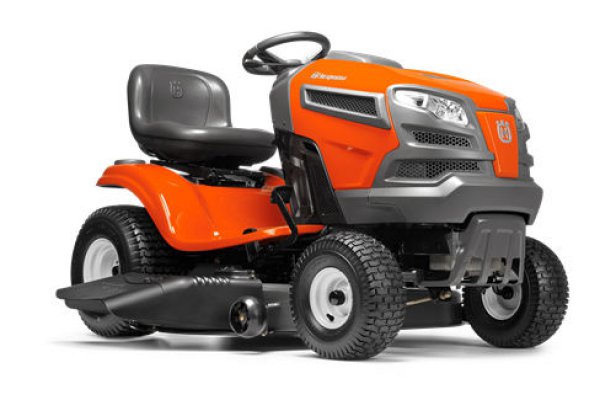 Double tap to zoom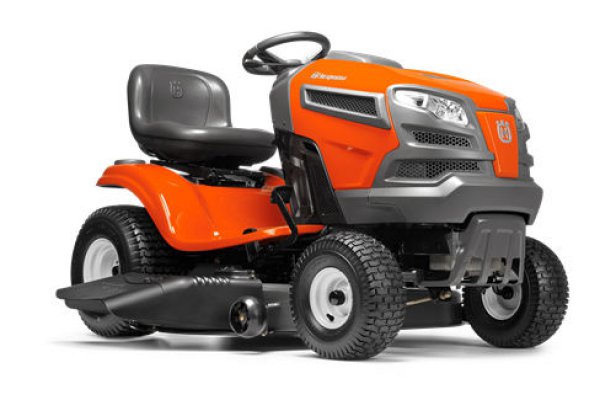 Features
Reinforced Cutting Deck
The stamped cutting deck is reinforced with heavy flat-stock steel for added strength and durability on the leading edge and trim side. (48" shown)
Cast iron front axle
Heavy cast front axle provides superior balance and stability, even with a collector.
Cast Iron Front Axle
Greater durability when operating on uneven terrain.
Air Induction Mowing Technology
Air is drawn from the top and bottom of the deck, improving grass lift and delivering a superior cut.
Cruise control
Allows the tractor to maintain consistent speed, even in rough terrain.
Kawasaki V-Twin engine
Fully pressure-lubricated, two-cylinder Kawasaki engine with oil pump and oil filter. Powerful and quiet.
Step-through
Ensures comfortable and easy mounting and dismounting.
Powder-coated cutting deck
Powder-coated deck for improved durability and corrosion resistance.
Fender-mounted cutting height adjustment
Convenient fender mounted deck lever is spring assisted for easy operation.
Ergonomic Seats
Ergonomic steering wheel
Comfortable steering wheel, angled for optimal driver's position.
Anti-scalp wheels
The cutting deck is equipped with anti-scalp wheels, which reduce the risk of scalping when cutting uneven lawns.
Deck Wash Port
Connect your water hose to the port to clean the underside of your deck.
Dual draglinks
Give tighter turning radius and improved manoeuvrability.
BioClip® kit/cover accessory
Makes it possible to convert your mower to BioClip®, which means that the grass is cut into small pieces that quickly decompose and return to the lawn as fertiliser, also making the lawn more drought resistant.
Hour meter with service minder
Indicates when it's time to service your mower.
Cup holder
Cup holder for refreshments while mowing.
Headlights
Makes the tractor more visible and allows you to work when it's dark.
Collector accessory
Two or three bin collectors available as accessories.
Year-round use
A wide range of accessories makes our tractors versatile and useful all year round. They can be fitted with trailers, snow blades, brushes and more.
Versatility through accessories
With different optional accessories this machine can be converted into an ultimate garden tool performing ridging, edging and dethatching.
Specifications
Cutting deck
Cutting width: 116.8 cm
Nose roller: No
Belt tension release: No
Greasable mandrels: No
Anti-scalp wheels: 2
Drive system
Drive method: Pedal-operated
Speed reverse max: 2.9 mph
Speed reverse min: 0 mph
Engine
Motor/engine manufacturer: Kawasaki
Engine name: FR Series
Cylinders: 2
Generator: 15
Generator: 15 A
Battery: 12 V
Battery: 28 Ah
Power/fuel type: Gasoline
Oil filter: Yes
Transmission
Transmission type: Hydrostatic
Transmission manufacturer: Tuff Torq
Equipment
Seat material: Vinyl
Front-End Protection: Optional
Hour meter: Yes
Seat back height: High
Steering wheel type: Deluxe Overmolded
Collector: Available as accessory
BioClip® kit/plate: Available as accessory