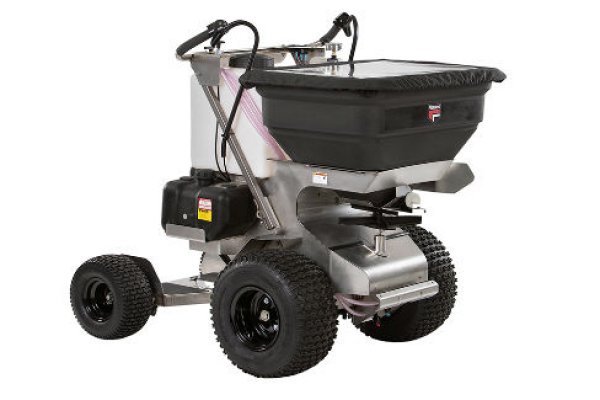 Double tap to zoom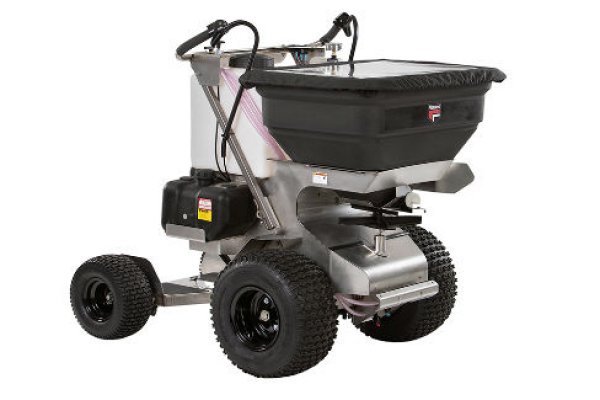 Features
100 lbs. Spyker Hopper
The Pathfinder™ FS2100 hopper will handle up to 100 lbs. of granular material providing over one acre of maximum coverage.
12 Gallons of Liquid Capacity
Covers a maximum of 1.1 acres between fill-ups.
Selectable Spray Width
The Pathfinder™ FS2100 allows the operator to select between two spray widths. A 3' spray width is perfect for trim applications and narrow spaces. A 10' broadcast spray is used for wide open spaces.
100% Stainless Steel Frame
Stainless steel resists corrosion from the granular and liquid chemicals distributed by the unit.
Best-in-Class Maneuverability
A low-friction sulky pivots on a 3/4" tapered roller bearing for smooth movement. No mechanical steering assistance is required.
Specifications
| | |
| --- | --- |
| Engine Model | GX200-URH2 |
| Fuel Capacity - gal (L) | 2.5 (9.5) |
| Fuel Shut-Off Valve | Located on engine and below tank |
| Speed | Low Gear: 3.5 mph (5.6 km/hr) High Gear: 5.0 mph (8.0 km/hr) |
| Rear Tires | 13 x 6.50 - 6 |
| Spreader Hopper Capacity (lbs.) | 100 |
| Sprayer Tank Capacity - gal (L) | 12.0 (45.4) |
| Spray Rate | Adjustable from 1/4 to 1/2 gallon per thousand square feet |
| Overall Width - in. (cm) | 35.5 (90) |
| Dry Weight - lbs (kg) | 420 (190) |
| Charging System | N/A |
| Safety Interlock | This machine is equipped with a neutral safety start module. To start the engine, the transmission must be in the neutral (N) position. |
| Belts, Tires, Brake Pads, Hoses, Battery Warranty | Standard: 90 days Rental: 90 days |
| RPM | Full Speed: 3750 RPM (No load) Idle: 1400 RPM |
| Fuel Type | Regular unleaded gasoline, 87 octane or higher |
| Transmission Model | Peerless 855 Series, coated for corrosion resistance |
| Front Tires | 18 x 9.5 - 8, RV antifreeze added for ballast and traction |
| Spreader Model | Spyker 120 Series |
| Spray Pump | 2.0 gpm mechanically driven diaphragm pump |
| Nozzles | Broadcast: Turbo FloodJet TF-VS5 Trim: Turbo TeeJet TT11004VP |
| Overall Length - in. (cm) | 54.0 (137) |
| Overall Height - in. (cm) | 49.0 (124) |
| Full Weight - lbs (kg) | 640 (290) |
| Charging Capacity | N/A |