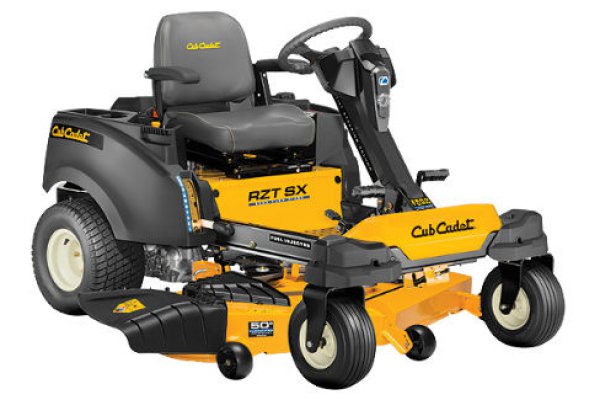 Double tap to zoom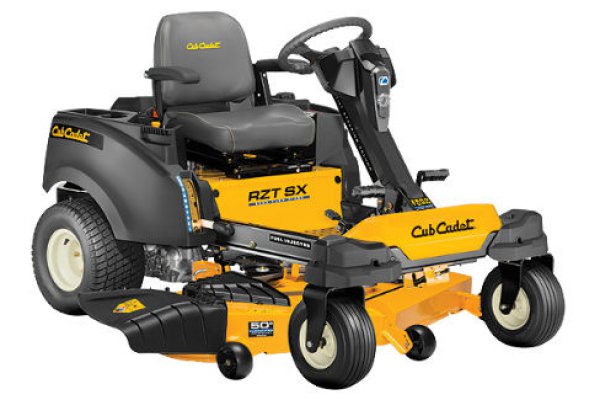 Features
Strength in comfort.
The RZT® SX series puts you in the driver seat and this driver's seat is a premium cushioned seat with armrests and increased stability and comfort. The storage console and charging station give you extra room to bring all the necessities, while LED lights let you mow on your time.
Uncompromised performance.
All engines on Cub Cadet® machines have undergone a rigorous certification and now you can choose between powerful options: the 679cc EFI Cub Cadet V-twin OHV and the 21.5 hp Kawasaki® FR OHV.
Ultimate control.
This zero turn is tough in any terrain. With patented SynchroSteer® technology, users can expect unparalleled stability on hills and terrain with no turf damage.
Specifications
ENGINE
Engine Oil: 2.0 qt.
Cylinders/Material: 2/Cast-iron sleeve
Engine Type: 679cc Cub Cadet® Twin OHV EFI
Lubrication: Full-pressure w/spin-on oil filter
MOWER DECK
Deck Style/Construction: Floating, 11-gauge fabricated
Deck Lift: Hand lever, multi-position
Deck Cutting Height: 1.5" - 4", 8-position height adjustment
Anti-Scalping/Rear Striping Roller: 2 adjustable-gauge wheels, greasable
Deck Wash: Patented SmartJet™ high-pressure deck washing system
Cutting Width/Blades: 50" triple-blades (high-lift)
OPERATION
PTO Clutch: Electronic fingertip engagement
Safety Systems: Operator presence, RevTEK™ reverse mowing technology
Bluetooth® Equipped: Bluetooth® equipped
Seat: Premium cushioned seat with increased stability and comfort
ELECTRICAL SYSTEM
Battery Voltage: 12V 300 cold crank amp
GENERAL
Hour Meter: Standard electronic
ADDITIONAL SPECIFICATIONS
Forward Speed: 7 mph
Reverse Speed: 3 mph
Fuel Tank Capacity: 2.8 gal.
Approximate Weight: 620 lbs.
POWER SYSTEM
Cruise Control: Standard, foot operated
FRAME
Frame: Heavy-duty 12-gauge one-piece, full-length steel frame
SPECIFICATIONS
Steering Wheel Control: Steering wheel w/comfort grip, 2-position column adjustment
Turning Radius: Zero
STEERING
Front Axle: Heavy-duty fabricated steel, greasable
WARRANTY
Warranty: 3-year / no hour limit
Engine & Drive System
Transmission: Dual Hydro-Gear™ EZT 2200
WHEELS & SUSPENSION
Parking Brake: Foot operated pedal