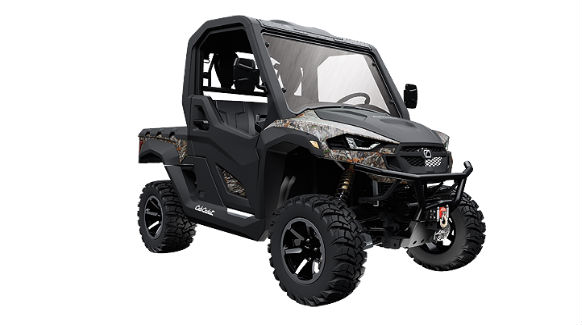 Double tap to zoom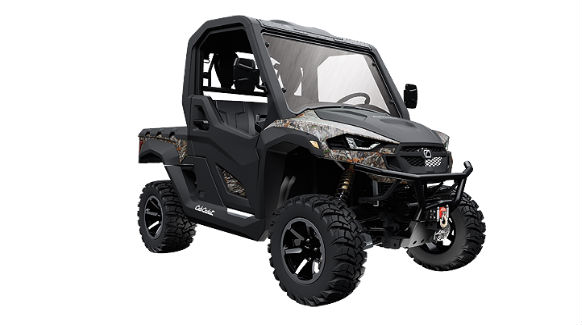 Features
STANDARD FEATURES. FULLY LOADED.
Conquer your challenge right off the lot with a roof, sealed windshield, winch, LED headlights and high-sided doors. All loaded standard on every 550 and 750.
CONVENIENT
With underhood storage, interior door handles and familiar automotive-style controls, you and your gear can stay organized and get to your challenge easily.
CAPABLE
Adjustable shocks and off-road tires with selectable locking front and rear differentials means your challenges from the field to the trail are no challenge at all.
COMFORTABLE
High-sided sealed doors and windshield offer protection from dirt, mud and water, while eliminating the need for additional hip and shoulder restraints. Plus, bolstered seats provide all-day comfort.
Specifications
Specifications
Platform: Utility Vehicle
WheelBase: 76.8"
Differential: Front Locking / Rear Mechanical
Series: CHALLENGER
Engine Type: Offroad engine, liquid cooled 4-stroke, water cooled
Engine Displacement: 546cc
Ignition: EFI
Transmission: Enclosed CVT
Drive System: On Demand 4WD
Transmission: L-H-N-R
Minimum Ground Clearance: 11"
Overall Length: 118"
Overall Width: 61.75"
Overall Height: 76.75"
Weight: 1,456 lbs.
Bed Dimensions: 35.5" x 44"
Cargo Bed Payload: 500 lbs.
Fuel System: Gas
Fuel Tank Capacity: 7.6 gal.
Front Tire Size: 26" x 9-12"
Rear Tire Size: 26" x 10-12"
Tire Type: Offroad/Trail
Towing Capacity: 1,200 lbs.
Available Colors: Vista G2 Camo, Yellow (additional cost may apply)
Wheels: Aluminum Alloy
Headlights: Halogen
Bed Liner: Standard
Seating: 2 Bucket
Roof: Standard
Windshield: Standard - two piece
Headrests: Standard
Winch: 3500 lbs.
Mirrors: Standard Side View
Turn Signals: Standard
Rear Brake Lights: Standard
Storage: Glove Box
Display: Standard Digital Dash w/ Speedometer