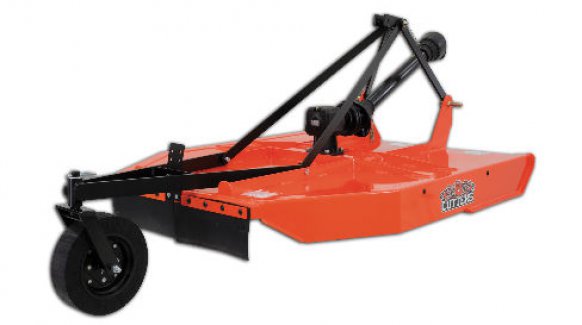 Double tap to zoom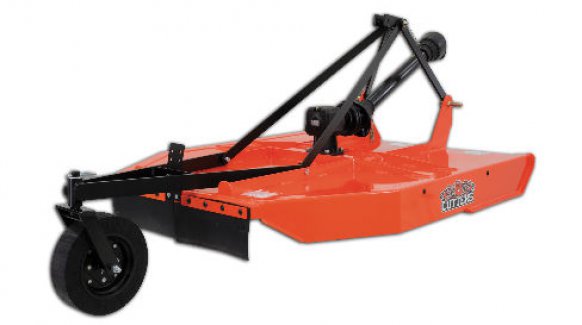 Features
Unique "H" Frame All-Welded Steel Backbone
Heavy-gauge steel frames are notched and welded at intersection points and to the top deck itself, creating unyielding strength and unbending durability for years of rugged use. The thicker steel sides are rolled to retain strength (not stamped) and welded along both top and bottom edges for maximum support and rigidity.
Thicker Front Skid Plates
The front line of abuse, our skid plates—made of heavier-gauge steel than all others in this class and fully welded along its edge—are built to absorb years of jarring abuse.
Geared For Speed
The 50HP or 75HP heavy-duty Omni gearbox drives the blade tip at ripping fast speeds, the fastest you'll find anywhere! Available with slip or pin clutch.
Single Pin Height Adjustment
Built to better withstand the weight of the tractor when clearing through troughs and dips, the heavy-gauge 2" x 2" steel tube rear wheel arm is also the heaviest-duty in this class of rotary cutter.
On-The-Go-Know
Instruction and parts manual is handy where ever you go for those times when you need to know.
Store Smarter
Rear tail wheel is easily positioned to save room for storing during off-season months.
Specifications
| | |
| --- | --- |
| 5' Bad Boy Cutter Specifications |   |
| Gear Box | 50Hp Heavy Duty Omni RC51 |
| Gear Box Mount | 3/8" Steel; Completely Surrounded By Interlocking 'H' Supports |
| Deck Thickness | 11 Gauge Welded |
| Skirt Thickness | 3/16" Steel |
| Underdecking Support | 1/4" x 6 1/2" |
| Skid Shoes | 1/2" x 2" x 32" (24" Of Ground Contact) |
| Deck Support | Vertical Interlocking Solid Welded, Interlocking 'H' Frame |
| Lift Attachment Brackets | 1/2" Solid Welded |
| Tail Wheel Arms | 1/2˝ x 2 1/2˝, Designed To Withstand Rear Tractor Wheel Lift Off |
| Tail Wheel | 4" x 15" Puncture Resistant Bushing Style |
| Stump Jumper | Reinforced Round with Heavy Duty 15 Spline |
| Weight | 650 Lbs |
| Length (Including Tailwheel) | 100˝ |
| Total Width | 63 1/2˝ |
| Overall Height | 40˝ |
| Deck Height | 7˝ |
| Cut Range | 2˝- 10˝ |
| PTO Drive Shaft | Series 5 Slip Clutch |
| Blades | 1/2˝ x 3˝ |
| Tractor Range | 20-55 Hp |
| Cutting Capacity | 2˝ Diameter |
| Blade Tip Speed | 16,500 Feet/Minute |