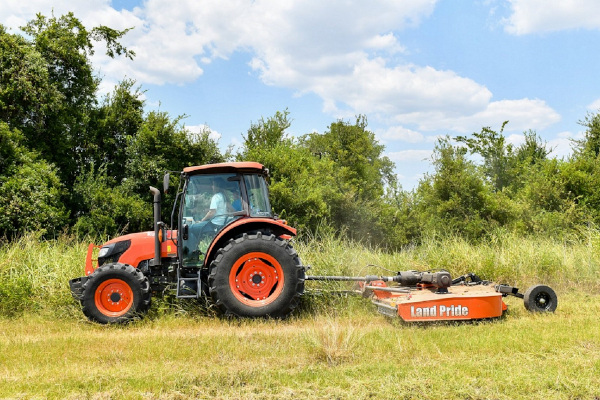 Double tap to zoom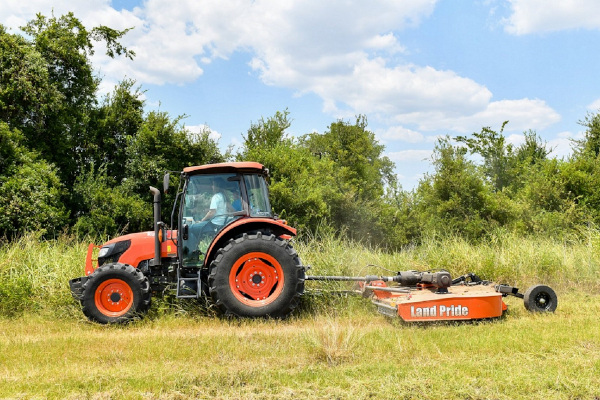 Features
DELUXE MODELS
M4D-061, M4D-071
Deluxe Category II Cab
Electronic 4WD Engagement
High Visibility Roof Panel
2 Remote Valves
LED Lights
Economy PTO
Deluxe Operator Seat
16.7 GPM
Instructor Seat
Over 3,000 3-Point Hitch Capacity 
Hydraulic Shuttle
STANDARD MODEL
M4-071
Deluxe Category II Cab
High Visibility Roof Panel
1 Remote Valve
Halogen Lights
Standard Operator Seat
16.7 GPM
Optional Instructor Seat
Over 3,000 3-Point Hitch Capacity
Hydraulic Shuttle
HIGH VISIBILITY ROOF PANEL
The M4 Series tractors deliver a high visibility roof panel as standard equipment, increasing visibility and operator safety while the loader is being operated at full height. Stacking hay bales and pallets are now a breeze with this high visibility roof panel. 
TRANSMISSION
This series comes standard with a 12F/12R fully synchronized gear shift. The transmission has six speeds on the main shift and a high and low range as well as the option to add a creep range. Seamlessly shift between gears by simply engaging the De-Clutch Button; not only is this more productive, but it causes less fatigue on the operator by limiting the need to constantly press the clutch pedal. 

INSTRUCTOR SEAT
The instructor seat can be an essential tool when teaching employees how to operate the machine. When not using the instructor seat, it can easily be folded away to restore spaciousness. 

*Standard on Deluxe models
BEVEL-GEAR TECHNOLOGY
The M4 Series has a bevel-gear front axle and provides the tractor with greater all-around maneuverability. Whether you're in the tight confines of a barnyard or going in and out of windrows, this series will surpass competitors' maneuverability in the utility tractor industry.  
DUAL RPM MEMORY
The perfect feature for a repetitive task. Dual RPM Memory allows for the operator to save two RPM speeds allowing them to alternate speeds during operation. The Dual RPM Memory is more efficient and can be especially useful while completing loader work or baling.
STANDARD R1W RADIAL TIRES
The standard wide tires on the M4 Series are Goodyear Optitrac LSW. These lower sidewall tires are designed for better handling, reduce power hop and have increased traction. The Goodyear tires have a front wheel diameter of 24" with a rear wheel diameter of 34". These are also available in a cast option. 
ELECTRONIC 4WD ENGAGEMENT
Easily engage 4-wheel drive on the go with the push of a button. This electronic feature not only provides convenience but will also greatly improve stopping performance. The 4WD will automatically engage when both brake pedals are depressed, this will give the operator 4- wheel drive braking performance, even when the tractor is in 2WD mode. 

*Standard on the Deluxe models. 
LED WORK LIGHTS
Get work done faster with these standard LED work lights. The M4 Series has two front work lights and two rear work lights with the option to additionally add on two more mid-mount LED work lights. These LED lights are longer lasting and brighter than halogen lights. 

*Standard on Deluxe models
ECONOMY PTO
For economy PTO operation, change the lever to 540E position. The engine operates at lower RPM to save fuel and reduce operating noise while still turning the PTO shaft at 540 RPM. Under the economy PTO operation, 540 PTO ROM is available at 1828 engine RPMs. The lever is now conveniently located inside the cab on the deluxe models.

*Standard on Deluxe models
Specifications