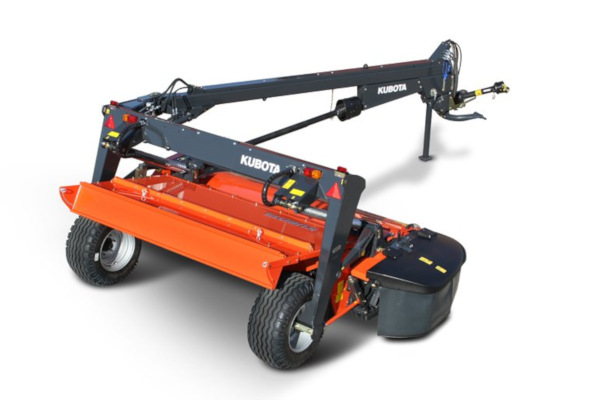 Double tap to zoom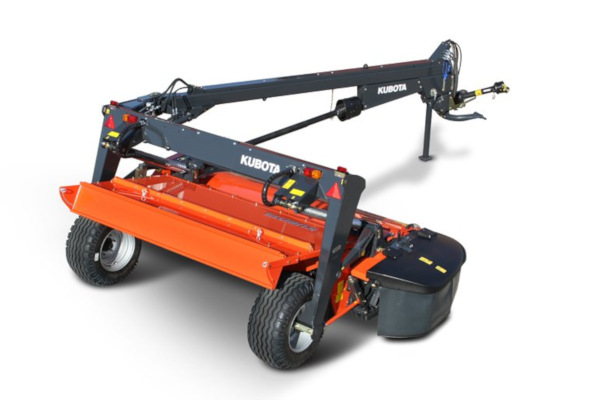 Features
Gentle Roller Conditioning (R Models)
Roller conditioning provides gentle yet effective handling of fragile crop such as alfalfa or clover. The 8.8" diameter wide rubber rollers are made from highly durable polyurethane with a steel core. This design ensures straight rollers that will not flex out of shape, regardless of the force transmitted onto them. The spring-controlled pressure exerted between the two rollers guarantees uniform conditioning intensity, regardless of the amount of crop passing through the rollers. Additionally, if an obstacle is encountered, the spring tensioning system will separate the rollers, leaving an opening of up to 2.4" allowing objects to pass without damage to the rollers.
SemiSwing Conditioners (T Models)
Utilizing centrifugal force is what makes the Kubota SemiSwing conditioner stand out among other conditioning systems. It offers an aggressive conditioning effect with excellent tine protection and virtually no wear and tear. The conditioner plate can be set in 3 positions, according to the required conditioning effect. Depending on crop conditions and the amount of crop you are cutting, the plate is easily adjusted to achieve the desired conditioning.
Kubota Suspension for Clean Cutting Action
The complete mowing section, including the conditioner, is suspended independently from the main chassis by either two or four long adjustable suspension springs, allowing it to follow the field contour. If an obstacle is encountered in the field, the mowing section will lift up and backwards, protecting the cutterbar from damage. When the obstacle is passed, the mowing section automatically returns to the working position.
Transport with Integrated Lighting Kit
The DMC8000 series offers a secure and convenient transport solution, which includes an integrated lighting kit for excellent road visibility. The transport width for DMC8028T and DMC8028R is 8'1" and the transport width for DMC8032T and DMC8032R is 9'1".
Specifications