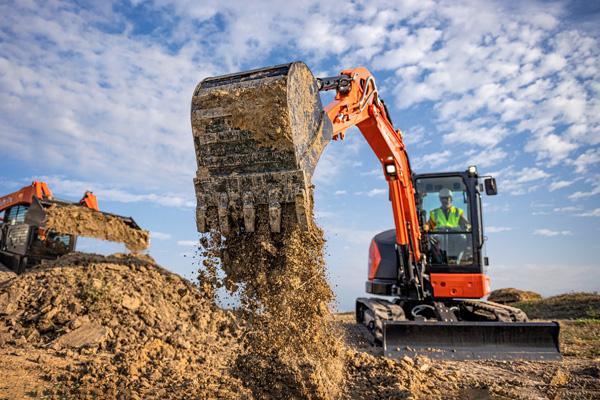 Double tap to zoom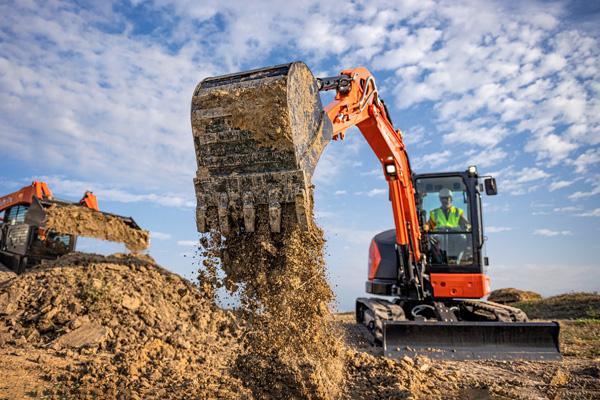 Features
NEW FEATURES
NEW - 7" LCD Color Display with jog dial (Standard)
NEW Keyless Start - start the excavator without the use of a manual key; no more losing or can't find your keys; excavator will store up to (10) user passcodes to start the machine; anti theft tool (Dealer - Option)
Rearview Camera - factory ready; dealer installed option; engage the rearview camera by pressing the 'camera' button on the right hand side key pad; screen will split with machine information on top and a clear view behind the excavator
Automatic One Way Flow Hydraulic Return Line (3rd Line) - on the (-4) excavators the 3rd return line is engaged manually on the right side valve bank; the new feature is electronic and engaged through the display
Dual Adjustable Seat & Console - allows the operator to find the perfect operating position in the cab
LED Working Lights - standard feature; changed from Halogen lights to LED
Improved AC System - improved from (5) air vents to, now, (7) air vents for quick cool down or heat defrost
ANGLE BLADE OPTIONAL HYDRAULIC ANGLE BLADE*
Save time and work more efficiently. With a simple movement of the new thumb operated rocker switch on the dozer lever, the hydraulic angle blade (optional) can be angled to the right or left to push soil to the side as the machine moves forward, eliminating the need for repetitive repositioning at right angles when backfilling trenches.
CLEAN RUNNING KUBOTA TIER 4 ENGINE
Kubota excavators are all powered by Kubota Tier 4 emission engines. The modern engine design maximizes digging and lifting performance, delivers minimized noise and vibration and meets the latest engine emission regulation.
TWO SPEED TRAVEL
All Kubota excavators have a two speed drive that allows for efficient machine maneuverability and backfill operations.
COMFORT & CONVENIENCE
A spacious operator station designed for greater comfort, with a fully flat floor for more legroom
Digital panel with easy access, simple settings and easy-to-read indicators and alerts
Easy cab entry and exit
Easy-open front slide window
Wrist rest
Cup holder
Optional cab
SERVICEABILITY
Front pin bushings to help maximize durability
Centralized swivel bearing lubrication
Protected cylinder hoses
Steel hood panels
One-sided engine maintenance
Wide hood openings for easy access to engine and other vital components 
AUXILIARY
Proportional flow control of auxiliary circuit (AUX1) and maximum oil flow setting – you can operate a larger variety of auxiliary attachments than ever before
Proportional AUX flow switch – a convenient bi-directional switch enables easy operation of hydraulic thumbs and other hydraulic attachments such as augers and breakers
Specifications