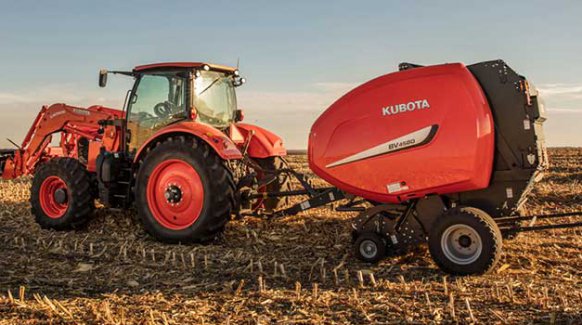 Double tap to zoom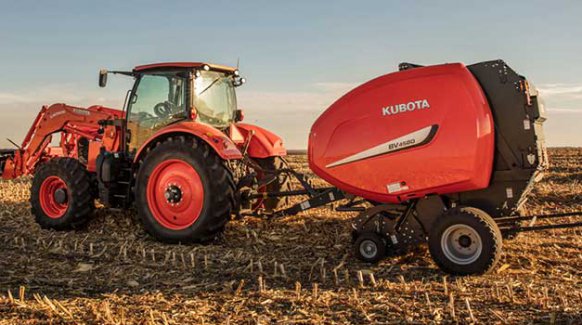 Features
Focus Control Terminal
The Focus III Terminal gives you full control of all functions on a high density digital display from the tractor cab. The Focus terminal monitors and controls all necessary functions including bale size, bale count, wrap count and twine settings.
Rotary Feeding System
All BV4580 balers are equipped with Kubota's EasyFeed rotary feeding system. This technology incorporates two integrated augers into the rotor feed design, allowing the crop to flow across the entire width of the bale chamber. Resulting in increased intake and capacity.
PowerBind Net Wrap
The BV4580 models come with Kubota's patented PowerBind net wrap system. This completely redesigned technology has allowed Kubota to get away from the old feed rollers, and eliminate many high wear items. The net is fed directly into the bale chambers by injection plates. This design keeps the net tight at all times, which provides accurate and extremely reliable net injection. In addition, there is absolutely no interference from external factors such as wind and crop.
High Capacity Pick-Up
Kubota's BV4580 balers feature a 5 bar 86" pickup. The low profile pickup is designed with closely spaced tines which can cleanly lift even the shortest crop. This design provides unparalleled pickup capacity and efficient intake into the bale chamber.
Durable MRT Profile Belts
Durable MRT profile belts with heavy duty MATO lacings.
Three Way Bale Shape Indication
Three way bale indication shows bale shape (of each side and middle of the bale) and driving indicators show driving direction for perfect bale formation in all windrows.
Specifications