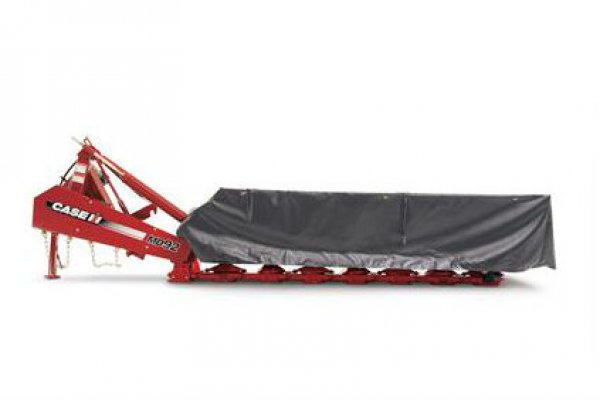 Double tap to zoom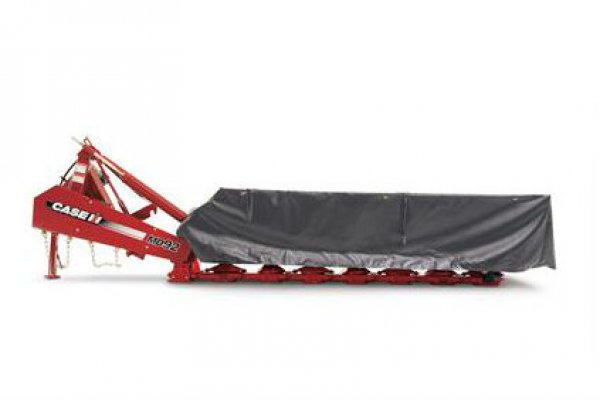 Features
HEAVY-DUTY FEATURES
Heavy-Duty MD72, MD82 and MD92
Cutterbar shock protection standard
Handles most any crop condition, from wet field to downed crops
Built with heat-treated components to stand up to extreme conditions
Uses a close-coupled design for maximum ride stability, especially in tight turns

Modular Cutterbar
Results in superior crop flow that reduces streaking
Ensures quick mowing
Heavy-duty frame and rugged canopy use a cantilevered design for smooth crop flow across cutterbar

Smooth-Profile Discs
Lift crop into the cutting zone for plug-free mowing, provides a consistent swath for more even drying
Each disc is 3/16-in. (4.8-mm)-thick and heat treated to resist damage
Discs are shielded by 1/4-in. (6.4-mm)-thick by 8-in. (203-mm)-wide skid shoes.The shape of skid shoes work with the tilt of the cutterbar to provide a wide range of mowing heights
The gearbox oil in modular cutting discs performs up to 200 hours between changes

Rotating Modular Knife Blades
A rotating modular knife blade provides thorough and uniform crop cutting.
Each disc houses two knife blades
Blades rotate at 3,000 rpm
Disc hardware is specially designed and treated for extreme durability to resist abrasive conditions
Independent, sealed and self-contained modules resist damage.
Short, independent splined driveshaft sections link modules
Shafts are made from alloy steel with roll-formed splines for strength and are hardened for added durability

Maintenance
MD72, MD82 and MD92 — engineered for ease of maintenance
Reversible knife blades change quickly without raising the cutterbed
Knife bolts are located on top of the modular discs for easy access
Discs can be in any position when performing maintenance
If an object is struck during operation, a spring-loaded cutterbed breakaway latch releases
Greasable, sintered bushings ensure the cutterbar releases fully when the breakaway latch is activated
A heavy-duty, puncture-resistant curtain provides protection for operator and bystanders
A polyester-vinyl curtain tilts the crop forward for better flow across the cutterbar
High-stress components are protected from debris by T-seal washers and lip seals

Hassle-Free Transport
When in the transport position, the MD72, MD82 and MD92 become compact packages with ride stability and plenty of ground clearance. 
The cutterbar transport lock automatically engages for a secure hold
The cutterbar is spring-balanced from end to end: allows the mower to glide over uneven terrain smoothly and can be adjusted for all conditions.
The V-belt tension spring has an easily visible indicator for quick inspection of belt tension: changing belt tension is convenient with single-point adjustment and no shields to remove.
A tethered pin activates the flotation spring for cutting and is repositioned when using the parking stand
Specifications
| | |
| --- | --- |
| Model | MD92 |
| CUTTERBAR |   |
| Cutting width | 9 ft. 2 in. (2800 mm) |
| Cutting height | .95-3.25 in. (24-82.5 mm) |
| Cutter Bar tilt angle | 0° to -10° |
| Cutter bar operating range | +18° to -28° |
| Breakaway angle | 19° |
| Type cutterbar | Modular |
| Number of discs | 7 |
| Knives per discs | 2 - reversible, swingaway |
| Disc cutting diameter | 19.7 in. (500 mm) |
| Disc drive | Bevel gears in sealed modules |
| Disc speed | 3,000 RPM |
| Cutterbar shear protection | Std.  Frangible splines in disc drive hub |
| Swath Width Standard | 110 in. (2 794 mm) |
| DRIVELINE |   |
| Minimum PTO hp required | 60 hp (44.7 kW) |
| Input speed | 540 RPM |
| PTO shaft spline & size req. | 6-spline/1-3/8 in. (35 mm) |
| Driveline protection | Belt drive to cutter bar |
| Overrunning clutch | On PTO shaft |
| Belt tension | Spring-loaded tensioner with adjustment gauge |
| HYDRAULICS AND HITCH |   |
| Hydraulic circuits required | One remote |
| Minimum relief pressure req. | 1,500 psi (104 bar) |
| Hitch | Category II |
| DIMENSIONS AND WEIGHT |   |
| Overall width | 181.75 in. (4616 mm) |
| Overall Length | 50.5 in. (1283 mm) |
| Height - transport position | 141 in. (3581 mm) ** |
| Shipping weight | 1,750 lb. (794 kg) |
| Operating weight | 1,590 lb. (721 kg) |
** Transport height is based on 18-inch (457 mm) hitch-pin height above ground on MD82 and MD92 models