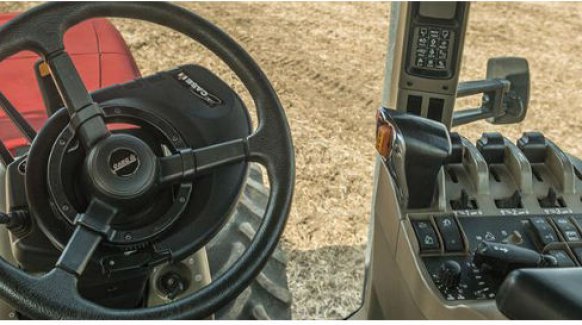 Double tap to zoom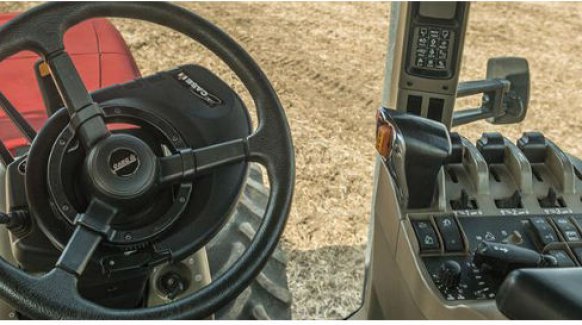 Features
The Perfect Alternative
AFS ElectriSteer assisted steering solution provides producers with an affordable, easy-to-install auto-guidance solution to their equipment without auto-guidance. AFS ElectriSteer utilizes the same user-interface and precision farming functionality as AFS AccuGuide auto-guidance systems. ElectriSteer has an operating speed of 1.0-15+ mph, which will enable you to gain all the benefits of auto-guidance regardless of the operation you are conducting in the field.

Motor Drive
The motor drive unit that mounts to the steering wheel features a high-torque, positive-gear drive that provides whisper-quiet operation even in the most demanding of vehicles. The high-speed drive motor allows for quick correction response to ensure your vehicle is always on the guidance line. The split-ring assembly allows for easy removal and transfer-ability for use in multiple vehicles.

Equipment Control Unit (ECU)
The Equipment Control Unit (ECU) that is included within the AFS ElectriSteer kit features a built-in onboard compass that determines vehicle heading and allows for reverse operation if required. The ECU also features built-in inertial measurement to measure roll/pitch/yaw terrain compensation. That allows accurate auto-guidance operation that takes into consideration any terrain changes experienced in the field.

The Receiver To Match
AccuStar GPS receiver from Case IH features simple operation to quickly and cost-effectively equip late-model tractors or combines with guidance capabilities.

Affordable & Effective
Producers can accurately map fields and save on fuel, labor and input costs with the new AccuStar receiver. This affordable GPS receiver features simple and intuitive operation to quickly and cost-effectively upgrade previous-generation tractors or combines capabilities. Once operators install the magnetic base and harnessing, they can immediately begin Geo-referencing exact data points in the field.

Ideal Uses
ElectriSteer assisted steering
GPS positioning for combine yield mapping
Stand-alone GPS applications
Providing GPS to third-party displays and/or applications

Pick The Components That Fits Your Needs
Supported vehicles include a variety of new and legacy Case IH and competitive equipment. Additional components required for AFS ElectriSteer are:
ElectriSteer
AFS Pro 300 or AFS Pro 700 display
AccuStar receiver or AFS 262/372

Accuracy Options To Fit Your Operation
The AccuStar receiver provides access to multiple guidance-correction sources ranging from low to medium to high accuracy. This flexibility offers the ability to upgrade to RTK-level guidance with Case IH RTK+ for sub-inch, pass-to-pass accuracy. Cellular RTK+ guidance-correction signals offer seamless coverage to alleviate line-of-sight issues with radio-delivered RTK correction, including those presented by hills, valleys, trees, buildings or other structures.


Specifications
Sorry, currently there are no specs but check back with us later.