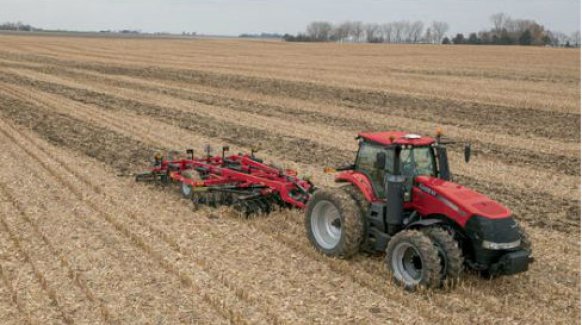 Double tap to zoom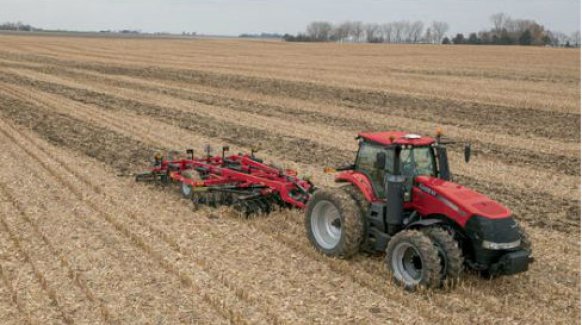 Features
AFS AccuGuide: Reliable Accuracy
AFS AccuGuide provides year-to-year repeatable accuracy, as tight as plus or minus 1 inch (2.5 cm). By minimizing skips and overlaps, you will save on seed, fertilizer and chemicals and even improve agronomic performance by precisely placing seeds. In controlled-traffic scenarios, you can minimize overall field compaction and further improve agronomic performance.
With a range of  accuracy options, your investment remains completely flexible.

Equipped From Factory
Steiger®​ Quadtrac®, Magnum™ and Puma® tractors, Axial-Flow® combines and Patriot® sprayers are equipped to easily accept AFS AccuGuide autoguidance. The integrated AFS system delivers added convenience and quality control.​​​​​

Plug & Play Capability
The Case IH AFS AccuGuide navigation controller, AFS Pro 700 touchscreen display and AFS 372 receiver are extremely portable and can be used across various types of equipment.

AFS AccuGuide: Guidance Patterns
AFS AccuGuide gives you the flexibility you need to ensure pass to pass accuracy and reliability regardless of the season or operation. Reduce overlaps and skips by picking one of the guidance patterns below and start saving money on input costs and labor.

AFS AccuTurn: Hands-Free End-of-Row Turning
AccuTurn features automated hands-free end-of-row autoguidance feature that utilizes industry-leading path-planning logic to maximize productivity and efficiency in your operation.
This new functionality can be used on any new and existing Case IH Steiger®, Magnum™, Optum®, Puma® or Maxxum® tractors that are equipped with AccuGuide™ autoguidance and a AFS 262/372 receiver, NAV II/ NAV III controller and AFS Pro 700 display.

AFS AccuTurn: Modes of Operation
AFS AccuTurn offers two different modes of operation to help the operator control the turning function based on the way the operation, farm or situation. The modes include Turn Now and Auto.

Turn Now
When the operator presses the Turn Now button on the AFS Pro 700. The current position is recorded, and the turn is planned and then executed once the implement reaches this point within the field. This ensures your implements leave and enter the working area squarely, providing maximum agronomic benefit and efficiency for your operation. The Turn Now feature can be used on operations that are not currently utilizing boundaries or headlands but still desire the benefits associated with AccuTurn.

Auto: Boundary
The Automatic mode within AFS AccuTurn will automatically build the best turn when you approach the edge of your field and you reach the trigger. Multiple triggers are available to choose from tailored to your operation.
When using a boundary as your trigger for AccuTurn, your automated headland turn will be initiated once your implement has crossed over the boundary to ensure you are getting the maximum productivity from your field by reducing your inputs.

Auto: Headland
Keeps the implement within the boundary by utilizing smart and intuitive path-planning logic. Your equipment thinks like an operator and will navigate your headlands efficiently and optimize the best turn for your application.
Use the headland feature to not only execute AccuTurn but also trigger section control when crossing into the headland. The headland feature uses multiples of your implement width or the operator can define a custom headland width to match your operation's needs. Can be used in conjunction with the AccuGuide Field swath pattern, which creates interior auto-guidance swaths and headland guidance swaths and allows the operator to quickly toggle between the headland guidance swath and interior guidance swaths.

Turn-Path Planning & Auto Speed Optimization
Seamlessly navigate the tightest turns and position your implement to come into the field squarely, resulting in proper seed and input placement to maximize yields and reduction of input costs.

Turn-path Planning
The advanced turn-path planning algorithms within the software will plan the most efficient turn optimized for your equipment on even the most challenging of headlands.

Auto Speed Optimization
The industry-exclusive Auto Speed feature will optimize your turn based on your speed within the field, and intuitive popups will alert the operator to slow down, if needed, to complete the turn.

AFS AccuGuide: Components
AFS AccuGide comes equiped with: •AFS Pro 700 Monitor
AFS 372 Receiver

Know Your Accuracy Options
Case IH Advanced Farming Systems (AFS) solutions are designed to help you farm better and smarter, no matter what crops you grow or where you grow them. You can count on Case IH AFS for a variety of reliable accuracy options, repeatable 95% of the time. We fit the way you farm.
Specifications
Sorry, currently there are no specs but check back with us later.