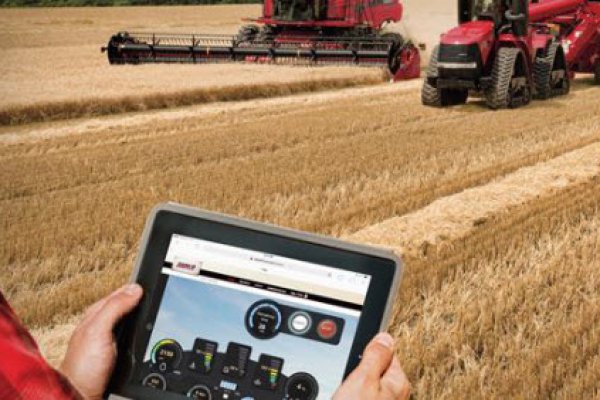 Double tap to zoom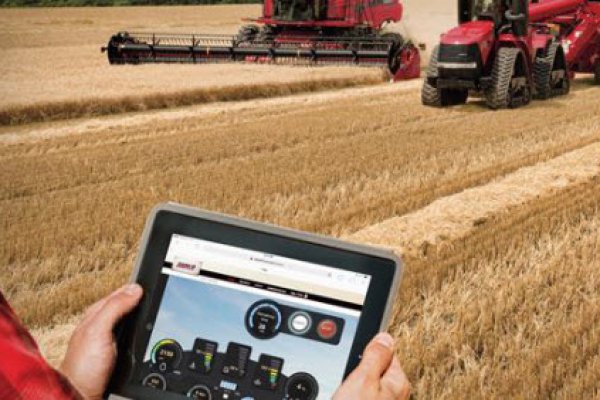 Features
AFS Connect: Key Features
AFS Connect advanced farming management system gives you instant access to information for every machine in your fleet - including machine location, diagnostics and fuel and engine stats. Use it to manage operator and equipment performance and monitor real-time data to make informed decisions that impact your bottom line. Learn more about the key features of AFS Connect by clicking below.
RTK+ Cellular Guidance
Delivers guidance correction to a reliable sub-inch accuracy from year-to-year using AFS Connect hardware. Cellular RTK guidance correction signals alleviate problems associated with traditional radio delivered RTK such as line-of-sight issues, including hills, valleys, trees, buildings or other structures — extending your distance of travel from a cellular base while maintaining sub-inch accuracy. Seamless connectivity reduces application overlaps and skips, improves field efficiency and allows for more accurate placement of inputs, such as fertilizer and herbicides. This helps achieve repeatability — even in the most narrow rows — and keep tire tracks on the same path to reduce compaction.
Fleet Management
Pinpoints the exact location of each machine and through custom reports you can setup geofences, curfews and more.
Machine Dashboard Monitoring
Allows you to view real-time machine parameters from a remote location. Monitor engine speed, oil temperature, coolant temperature and level, hydraulic oil temperature and pressure, fuel and more.
Monitor Vehicle and Implement Data
Lets you view real-time equipment performance data, including; yield, moisture, singulation, target rates, rotor speed, engine speed and more.
2-Way File Transfer
Helps you remotely transport AFS data easily to your home office or trusted adviser and upload prescriptions directly to your machine.
View Graphs and Reports
Shows area worked, yield average, flow average, moisture average and more.
Real Time
It's a real-world scenario, but not a best-case one: The producer observes that often his machines spend time waiting in the field to unload or waiting for a fuel truck. It squanders valuable time from the limited windows that every producer experiences.


Live Time Streaming
AFS Connect from Case IH provides you with up to 30 minutes of Live Time streaming access to your equipment. So you can see what's happening in your equipment as it happens.
Fast Data Refresh
AFS Connect also has a one-minute data refresh rate - the fastest in the industry. It continuously provides you with updates on equipment location and performance to any Web-enabled device.
Stay in Contact
Additionally, with AFS Connect, you can send messages through your Web portal to the system to stay in constant contact with the people operating your equipment.
Real Data
It's bold. It's crisp. It's easy to read. The AFS Connect dashboard provides a clear display of machine health parameters such as engine speed, hydraulics, oil temperature, fuel level and more.


Intuitive Dashboard
With the intuitive AFS Connect dashboard, you see a real-time view of what is happening on the machine. The user-friendly graphics provide you with key equipment parameters, such as:
Standard engine, oil and fuel information for all makes
Proprietary yield, flow and moisture information for supported Case IH models
Manager alerts for maintenance and error codes
Ease of Use
All of these features in a format that's easy to understand, so you can manage your operation more efficiently than ever before. You can't get that with any other system.
Real Control
AFS Connect lets you monitor anything with power, from field machines to road vehicles. It can help you save time, save fuel, cut costs and improve overall efficiency. And you can access it from wherever you're sitting - from the kitchen table to a pickup truck.


You Control Your Fleet
AFS Connect provides you with fleet management, machine status and security features that lead the way in providing you with real control over your operation
Flexibility
It works on just about any piece of equipment from combines to trucks, even outside the Case IH product line. This provides you with a unifying system to monitor, control and manage your operation and data on mixed fleets.
24/7/365 Support
AFS Connect is backed by our 24/7/365 support network, which is always available for assistance calls with equipment. Whether it's midday or midnight, we're ready to help
You Control Your Data
Only AFS Connect lets you decide who sees your agronomic information. So, not only do you control your equipment but you also control it's data.
Specifications
Sorry, currently there are no specs but check back with us later.